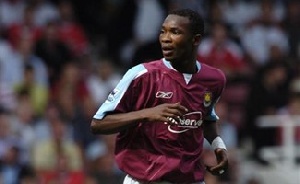 Tue, 13 Feb 2007 Source: --
West Ham United defender John Paintsil is looking to quit. The full-back - who was signed by Alan Pardew last summer - has barely featured for United since making the £1m switch from Israeli club Hapoel Tel Aviv in July.
Talking to the Daily Graphic ahead of Ghana's recent international friendly with Nigeria, Paintsil revealed that he would be seeking a move as soon as possible - unless he became part of Alan Curbishley's plans.

"I am a professional footballer and need to play frequently," he said. "If I can't play at West Ham United then the best thing is to move on to a club where I can have regular playing time.

"When I recovered from my injury I made frantic efforts to reclaim my position but after Alan Pardew was kicked out things suddenly became very difficult.

"The new coach bought many players and wants to justify his purchases by giving those players more opportunities - hence making my chances slimmer and slimmer.
"What is more difficult is that here, officials cannot have a say with regard to what the coaches do, so even though some of them do know about my potential and believe in me they can't influence the decision of the coach. But I am still fighting to reclaim my position."

Paintsil - who was signed by Pardew on the back of a good World Cup performance - has made just seven appearances for the Hammers this season, picking up three yellow cards in the process.

His last appearance came in the 1-0 FA Cup fourth round defeat to Watford.
Source: --