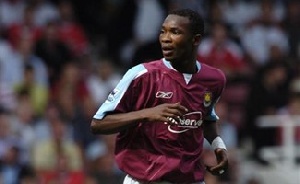 Black Stars and West Ham defender John Paintsil says he has given his agent up to December to find him a new club or risk losing him.
The Ghanaian international believes his French agent Jacky Mouyal has not done to get him out of his current crisis.

John Paintsil has not started in any competitive match this season for his club and he only managed six appearances last sea-son. In an exclusive interview with ALLGHANASOCCER.COM in his house in London, the player made it clear that he would like to move on and if his agent does not act fast, he will take the first step by ending their relationship.

"I have told my agent that I am not happy to be in the reserve team of West Ham and he should act very quickly"

Asked if it is not up to his agent alone to do the work if he wants to be on the field again, the player said, he had been working very hard at training every day and he has even devoted an extra hour to train after the normal training hours. "I don't understand the reason for being in the reserve team always and I don't know what is really happening in the club" he said. John Paintsil also had a word for his coach, Alan Curbishley. I think he should give level grounds to all the players to show what they are made off. I like Curbishley as a coach but I think some of us should also get the chance to play because we are proven and tested players. "I know very well that we are in a competition for positions, but I want the coach to give me the same chance as he gives to the other players" Since Allan Pardew left the club, I have not been given the chance to play even 45 minutes on the field and I think that it is not right. I am a good player that is why West Ham paid so much for me. When I came to West Ham everything was normal until I got injured in our match against Liverpool and since then all has not been well for me. I am doing everything in my power to play for the team but as I said I don't know what I should do again to play. Paintsil said as a professional player he has left everything in the hands of his agent and he is waiting for him to say something positive soon. "The coach always takes me to camp but I am left out in the final selection and I want my agent to tell me what I have done to play in the reserves team always"
The Ghanaian international also touched on his national team position and said he knows that most people are very worried about him sitting on the bench.

"I love my country and I am always happy to don the National jersey so if I don't play more games, I might lose my position and I don't want this to happen to me.

For now the most important thing is to keep my position in the National team and work towards coming back to action for West Ham. It will be hard for me not be in the final 22 squad for CAN 2008 in Ghana and I will keep working hard to get back in action soon Paintsil also said he is not so worried about his form because his condition is good and he will try to keep his form at the highest level for him to perform well whenever he is called up to play for the Black Stars.

John Paintsil signed for West Ham last year from Israeli side Hapoel Tel Aviv after impressing the then coach Alan Pardew on a brief trial in a deal reported to be around one million pounds. He has been in the Ghana National team for the past 6 years and boasts of 26 international cups for his country. Paintsil has made appearances in FIFA World Cup, FIFA under 20 Championship and the Olympic Games as well as the UEFA Champions league.