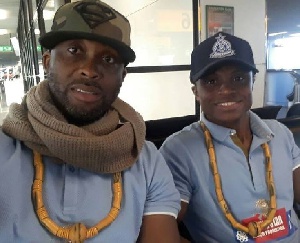 Sat, 25 May 2019 Source: The Finder
Former IBF welterweight World Champion, Joshua Clottey claims the trainer and father of Isaac Dogboe, Paul Dogboe is displaying a great degree of cowardice by suggesting that his son quits boxing following his second successive defeat to Mexican boxer Emmanuel Navarette.
An incensed Clottey, speaking to JOY FM said, Paul Dogboe has every right to step aside as trainer of his son, but should not coerce his son, subtly or overtly to abandon his boxing career because of a few challenges on the road.

Isaac Dogboe's attempt to reclaim his bantamweight title came crushing once again after he suffered another defeat to Navarrete in Tuscon, Arizona about a week ago.

Isaac Dogboe was dominated by the Mexican and eventually succumbed to a round 12 TKO defeat after his corner threw in the towel to avoid further torture.

Isaac Dogboe, after the bout, spoke of his plans to move up to the featherweight division, but his father believes he may no longer have a future in the sport.

"I will not impose my will on him. However, I think he has had enough," he told Accra-based Joy FM.
"I want him to return to school and continue his course and take another path in life. We worked hard but were unsuccessful at overcoming Navarette."

Asked what he made of the statement by Paul Dogboe who has an incredible influence on his son, Clottey who has had a fair share of ups and downs in the pugilistic sport said, "Coward talk. Coward. How can you talk like that? If he Paul is tired as a coach he can step aside and allow someone else takes over but he cannot tell the boy to stop boxing because of two defeats in his career. Boxing is full of ups and downs and so you cannot give up when the bad times come. Dogboe is young and can always bounce back from the setbacks," Clottey said on the Joy Sports Track last Monday.

Since Clottey's comments, Isaac Dogboe's camp has officially revealed the 24-year-old is to take a lengthy break from the sport.

This break is expected to allow the boxer regroup, and strategize before making another attempt to win a world title.

Dogboe is also expected to take the time off to resume his university education. The former world champion gained admission to the Penster University last year but had deferred studies due to the demands of his boxing career.
Source: The Finder