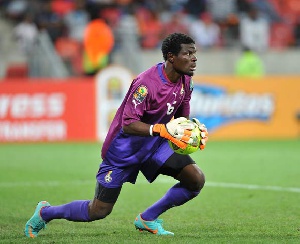 Chippa United CEO Peter Katroulis says the reason why Fatau Dauda cancelled his contract is because the player had very serious personal problems in Ghana and asked for his contract to be terminated.
The Ghanaian international goalkeeper joined Chippa United this season from Orlando Pirates and cancelled his contract yesterday amidst reports that he hasn't been paid. Yet in an exclusive interview with KickOff.com, Chippa's CEO Peter Katroulis explained the talented shotstopper's situation.KickOff.com: Peter, why did Dauda cancel his contract with Chippa United?

Peter Katroulis: The player cancelled his contract because he told us he has very serious personal problems to sort out back home in Ghana. He is a very good boy but he has personal problems and we need respect that.

KO: What are these personal problems that would get him to cancel his contract just few months after joining a new team?

PK: I can't tell you about that but they are personal problems, very serious personal problems. We talked and talked about it but at the end we agreed to part ways. When I gave him his clearance, I wished him good luck. We reached an agreement and released him.

KO: What about reports that you owe him money? Do you owe him money?
PK: No, we don't owe him money that is not true. We have always been paying his salary and before he left I told him that we will pay him this month's [September] salary as well. So I don't know why he is saying all these things. Salary is very important. Every month he received his salary.

KO: You paid his salary? What about signing-on fees or any other monies due to him?

PK: We paid him everything due to him. But the next portion of his signing-on fee was due in November and obviously we can't pay him for that because he is not here. He had to be here and working for us to pay him that, and he is not. What do we look like? A charity? No, we are not a charity. We paid him what is due to him and agreed to part ways.

KO: But why would you buy a player from Orlando Pirates in August and then cancel his contract in September? Is that not a financial loss for Chippa United?

PK: Yes, it is a financial loss. Listen here my friend: you think soccer clubs don't lose money? Yes, they do lose money and that is part of the game. Look at Sundowns and [Edward] Manqele, the player needs to be free and they will lose money. It happens in football and it's normal. Both parties agreed to part ways and that's the story.