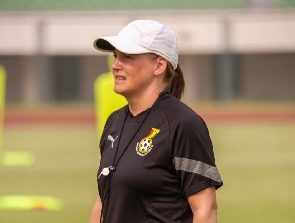 The head coach of the Black Queens, Nora Hauptle has given her assessment of the two friendly matches against the Teranga Lioness of Senegal.
In the two friendlies, Ghana beat Senegal 3-0 and 1-0 respectively at the Accra Sports Stadium.

Speaking in a post-match interview, the Black Queens coach said her team still has a lot of work to do to get better.

This is why she insists that playing friendly matches is important.

"We still need to work a lot on our principles, the players need to find each other. We are still in the building process of this team, and it is very important again that we have friendly games," Coach Nora Hauptle said.
The Swiss tactician added, "I think, all in all, in the end, we deserved this victory, we also need to give respect to Senegal. I think we had the patience also, we knew we have quality, and in the end, sometimes you play not so beautifully, but you still win, and this is very important."

Since taking over as Black Queens head coach, Coach Nora Hauptle has won all three friendly matches played.

In the three games, the Queens have scored seven goals and never conceded.