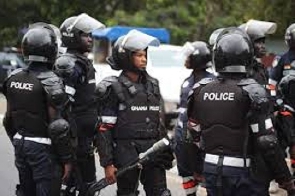 Police have organized a search for suspects involved in assaulting Nsoatreman head coach, Maxwell Konadu, at the Sunyani Coronation Park on Sunday, November 19, 2023.
In a statement released on X, the Police stated that two persons are suspected to be involved in the manhandling of Konadu, who is currently hospitalised.

"The Police are on a manhunt for two persons who attacked the coach of Nsoatreman FC, Mr. Maxwell Konadu, during a football game, yesterday, 19th November 2023, at the Sunyani Coronation Park.

The Police also indicated that the coach suffered a head injury due to the assault and also wished the former Black Stars manager well.

"The coach who sustained a head injury during the attack is currently receiving medical attention. We wish to assure the public that we will surely get the suspects arrested to face justice."

Maxwell Konadu was a victim of mob action by disappointed Bofoakwa Tano fans who could not take their team's draw against Nsoatreman lightly.

They invaded the pitch after full-time and manhandled the former Black Stars coach.
Other reports indicate that the manager was hit with objects in the process.

Maxwell Konadu went unconscious as a result and was rushed to the hospital to receive treatment. He has now regained conciousness.

EE/OGB


POLICE ON MANHUNT FOR SUSPECTS WHO ATTACKED A FOOTBALL COACH IN SUNYANI

The Police are on a manhunt for two persons who attacked the coach of Nsoatreman FC, Mr. Maxwell Konadu, during a football game, yesterday, 19th November 2023, at the Sunyani Coronation Park. pic.twitter.com/BOEL7VO5gh

— Ghana Police Service (@GhPoliceService) November 20, 2023
Click here to follow the GhanaWeb Sports WhatsApp channel