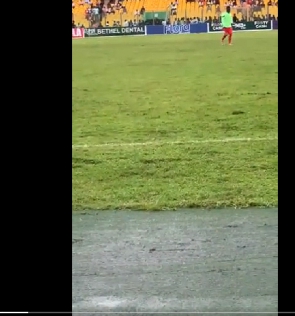 Thousands of Ghanaians took to social media to pour out their frustrations over the poor nature of the Accra Sports Stadium pitch which hosted the Black Stars' 3-1 win over Lone Stars of Liberia 3-1 in an international friendly on Tuesday, September 12.
This match provided an opportunity for Ghana's head coach and fans alike to gauge the team's progress and potential following qualification to the 2023 Africa Cup of Nations.

Goals from Ernest Nuamah, Kudus Mohammed and substitute Jordan Ayew were enough for the Black Stars to record two consecutive wins as the visitors grabbed a late goal.

Though it was a tough game in the first half, the Stars managed to turn the game in their favor after recess to record three goals.

Many Ghanaians took to social media to bash the Ghana Football Association and the National Sports Authority for allowing the team to play on the watery pitch after a downpour.

Top personalities including politicians, journalists, ex-footballers, and other high-profile personalities were not left out as they all joined the campaign, asking authorities to get the Accra Sports Stadium fixed and not rent it out for other functions.
GhanaWeb caught some reactions from Twitter after the game.

Below are some tweets:


If I'm earning €20,000 a week in Europe, I won't come and twist my legs on this pitch in Accra.

And that will not be because I'm unpatriotic but because I have common sense

— Saddick Adams (@SaddickAdams) September 12, 2023
Our pitches are truly disgraceful and require urgent attention. https://t.co/dGJP4OdVSh

— Felix Kwakye Ofosu (@FelixKwakyeOfo1) September 12, 2023
This was the state of the Accra Sports stadium pitch yesterday ????#3Sports

pic.twitter.com/w0c3N8NGXi

— #3Sports (@3SportsGh) September 13, 2023
Black Stars players show their appreciation to the fans after their impressive win against Liberia in a friendly game despite playing on an abysmal pitch at the Accra Sports Stadium.

Subscribe to #CitiSports Youtube channel for more videos here: https://t.co/WhN3w9FNLk pic.twitter.com/HwBeKxNGlH

— Citi Sports (@CitiSportsGHA) September 12, 2023
Now that we don't have a standard stadium, if we are to host a FIFA-sanctioned match, Ghana cannot host it - @KelOwusu on the state of the pitch at the Accra Sports Stadium.#TV3NewDay ????@maxtvgh pic.twitter.com/b8bfadymXy

— #TV3GH (@tv3_ghana) September 13, 2023
State of the Accra Sports Stadium pitch as the Black Stars take on Liberia.. ???????? vs ???????? #PulseSports #Ghana #Liberia pic.twitter.com/vcD9WPKwbj

— Pulse Ghana (@PulseGhana) September 12, 2023
State of the Accra Sports Stadium pitch as the Black Stars take on Liberia.. ???????? vs ???????? #PulseSports #Ghana #Liberia pic.twitter.com/vcD9WPKwbj

— Pulse Ghana (@PulseGhana) September 12, 2023
The Accra Sports Stadium pitch ????????‍♂️. I'm sorry, but it's a lot to ask any professional footballer to play on such a pitch. I'll have no criticism of whatever the Black Stars deliver today because, personally, I wouldn't be leaving everything on such a pitch.

— Emmanuel Ayamga (@EmmanuelAyamga_) September 12, 2023
A percentage of the money realised from the World Cup should've been set aside for pitch maintenance.

— Victor Atsu Tamakloe ???????? (@AtsuTamakloe) September 12, 2023
Watch the latest episode of Sports Debate and Sports Check below








LSN/KPE