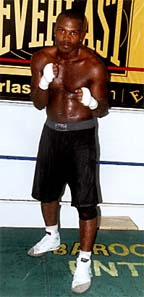 Tue, 27 Mar 2007 Source: Daily Guide
Vice President: Nii Odartey Lamptey
After chalking remarkable success in his chosen career, one of Ghana's most powerful boxers has finally decided to hang his gloves and run for the country's highest political office-president. Ike "Bozooka" Quartey, former World Boxing Association (WBA) Welter-weight Champion, has declared his presidential ambition come December 2008.

And for a good measure, Ike has decided to choose his fellow sportsman, Nii Odartey Lamptey of Starless '91fame to be his running mate. The boxing legend, who disclosed his ambition on an Accra radio station last week, said he was ever ready to put his money and service at the disposal of the nation.


Ike, whose multi-complex hospital at New Gbawe in Accra, is near completion, hoped he and Nii Odartey Lamptey as two great sportsmen, would form a formidable team to steer the affairs of this country. He said since he had built a hospital and Odartey Lamptey, a school, they were thus poised to overcome the two most important challenges of health and education which society needed very much.


To equip himself academically for his avowed ambition, Ike discosed that he ewould attend the Ghana Law School from where he would launch his 2008 presidential bid.


Ike, who sounded very optimistic, said he would run for the presidency as an independent candidate. He discosed that, his new hospital would be ready by August, after which he would fight a farewell fight in Accra in November.

After saying "good bye" to boxing, Ike said he would apply and attend the Ghana Law School. Ike Quartey, born on November 27, 1969, started boxing at the age of seven before turning professional in 1988 when he represented Ghana as a light welterweight at the 1988 Soul Olympic Games in South Korea.


According to boxing experts, the Bukom native is considered the best jabbing boxer in the history of the game. He is the youngest of 27 children. His enviable career record currently stands at 37, wins, four losses, 1 draw and 31 knockouts.


Perhaps the Ghanaian sportsman is taking a cue from great politicians like former president Nelson Mandela of South Africa, President Jakaya Kikwete of Tanzania, who played competitive basketball and George Oppon Weah, the 1995 world best footballer who was in last year's presidential race in Liberia.

Source: Daily Guide