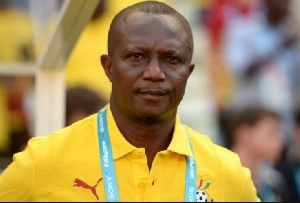 Ghana's miserable start to their 2018 World Cup qualifying campaign – they took just one point from their opening two fixtures – have left the Black Stars' hopes of reaching Russia hanging by a thread and brought a premature end to Avram Grant's reign.
Ahead of the upcoming double-header against the Republic of Congo, Ghana find themselves five points behind Egypt in Group E with four matches to play.

The final underwhelming months of Grant's tenure have left Appiah in a tricky spot.

Even Ghana Football Association executive committee member Wilfred Osei Kwaku was disappointed at a point and labelled Grant as a "failure" who had jeopardized the country's chances.

"[Grant] knows he failed," Osei told Kasapa FM. "He failed to meet his target and his approach to the work was uninspiring.

"[Ghanaians] don't want the mistake of appointing someone who will not dedicate himself to the work," he added. "He actually left no legacy as head coach of the Black Stars and jeopardized the World Cup dreams."
Kwesi Appiah returned to the post ahead of Willy Sagnol amidst clamour for a local coach, but the local manager who coaxes the best out of his teams through tactical intelligence and adroitness as well as calmness -- is expected to revive the nation's WC hopes.

A positive start to Africa Cup of Nations qualification—as Ethiopia were demolished—prompted optimism, but subsequent defeats by Mexico and the United States have dampened expectations.

The 56-year-old's winning rate has regressed in the past two months—amidst failure to reach the African Nations Championship—and unless there's a significant upturn in fortunes, he may find himself under early pressure.

There are no injury situations in camp apart from Thomas Agyepong, who has been replaced by Afriyie Acquah after picking up a knee injury, although Appiah will surely be keeping one eye on Egypt's fortunes against Uganda in Namboole.

Should the Pharaohs take maximum points from their double header against the Cranes, Ghana's margin of error will be cut even further.
Appiah is also under pressure to grind out results because he's the first Ghanaian coach to receive a monthly salary of $35,000, and although he has pledged to support his former teammates and other aged coaches with at least $3,000 every month, he is by far one of the most paid workers in the nation. His compatriots will be expecting only the best results in return. The pressure runs beyond the coach.

According to reports in the local media, Ghana's Youth and Sports Ministry has pledged support and readiness to meet the demands of players and officials in order to qualify for another World Cup through a supplementary budget.

Appiah may argue that it's still a work in progress, but as a result of all of these factors, Ghanaians' expectations are soaring and failure will not go down well.