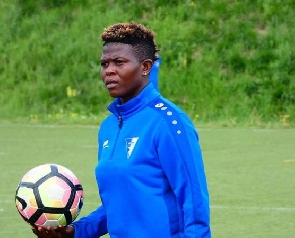 Black Queens midfielder Priscilla Okyere scored a brace for ŽFK Spartak Subotica in their 4-0 win over FC Breznica in the UEFA Women's Champions League on Friday evening.
Okyere fetched the opener for her side with a superb strike on the 13th minute before Rosa da Costa ended the first half in a 2-0 win in favour of the hosts with her 40th-minute goal.

The 23-year-old grabbed her second goal of the day on the 58th minute as American Angelina Nicole Hix completed their home win with her late strike.

The former Ampem Darkoa Ladies enforcer enjoyed full throttle.
She has scored two goals in her 2 appearances for ŽFK Spartak Subotica in the competition.

She was part of the Black Queens squad that clinch the 2018 WAFU Women's Cup held in Ivory Coast.