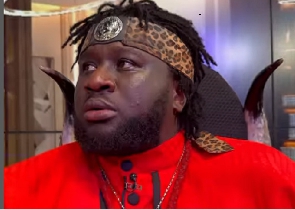 Bishop Abed Kwabena Boakye Asiamah alias Ajagurajah, has offered intriguing insights into how Ghanaians can improve their chances of winning bets.
According to him, the spirit behind betting is a demon called "aseomodu," and he believes that understanding this spirit is key to success in gambling.

Ajagurajah suggests that individuals looking to win bets should offer 5 percent of their potential winnings to the demon aseomodu.

This, he claims, can enhance their chances of success.

Furthermore, the bishop advised those interested in improving their betting fortunes to perform a specific ritual.

They should visit the intersection of a road, drop coins in the middle of the intersection, and then return home.

While betting has often been a challenging endeavour for many Ghanaian youths, who have faced significant losses, Ajagurajah believes that by following these practices, individuals can unlock the secret to winning bets.
Watch Ajagurajah in the video below



Click here to start the nomination process for the 2023 GhanaWeb Excellence Awards

Ghana's leading digital news platform, GhanaWeb, in conjunction with the Korle-Bu Teaching Hospital, is embarking on an aggressive campaign which is geared towards ensuring that parliament passes comprehensive legislation to guide organ harvesting, organ donation, and organ transplantation in the country.

JNA/KPE