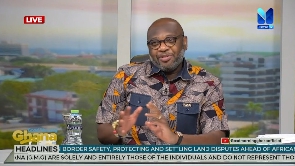 Dr Randy Abbey, a member of the Ghana Football Association Executive Council, has charged to Black Stars to make qualifying for the 206 FIFA World Cup a priority.
Ghana laboured to beat Madagascar 1-0 in Kumasi, following a last-gasp winner by Inaki Williams.

Despite the victory, the former GFA spokesperson believes it is time the Black Stars exert their 'big boys' status in matches.

"If we say we are big boys, we need to do what big boys do, and so we have no chance than to top the group and go to the World Cup," he told Citi Sports.
"I mean what else can be the priority, qualification to the World Cup must be your number one priority," he added.

The last time Ghana played Comoros, the team lost 3-2 in an Africa Cup of Nations game in Cameroon.

Meanwhile, Comoros got off to a bright start in the qualifiers after beating the Central African Republic 4-2 in Moroni.