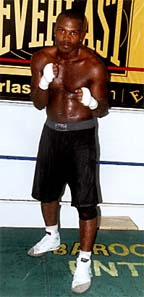 When two of the world's premier middleweights meet in the ring, it's a cause for celebration; when it happens in December, you can just call it an early Christmas present.

On Saturday, December 2, former world champions Winky Wright and Ike Quartey meet in the ring - and it means serious implications for the 160-pound weight class.


And with both fighters coming off controversial verdicts in their last bouts, neither wants to leave this one in the hands of the judges.


"I believe I am the uncrowned middleweight champion of the world, and I'm looking at this fight against Ike Quartey as my first title defence," said Wright, who is coming off a disputed 12-round draw with middleweight champ Jermain Taylor.


"Ike earned his way here with his performance against Vernon Forrest, a fight I believe he won, and we're gonna show boxing fans what middleweight boxing at its best looks like."

"When I decided to come back to boxing, my goal was to win a World Championship and cement my legacy in boxing. This can only be accomplished by fighting the best," said Quartey. "Winky Wright is one of the best fighters in the world, pound for pound, and I am looking forward to having a great performance on December 2nd."


"As co-promoter of this event, I am proud to be associated with two athletes of this high caliber," said Oscar De La Hoya, President of Golden Boy Promotions.


"Winky Wright is one of the premier technicians of this era and still on top of his game, and I know first-hand how tough Ike Quartey is, since he gave me one of my toughest fights. This fight should be a war."


An elite boxer who has made his home in the upper reaches of the pound for pound list, former world junior middleweight champion Winky Wright (50-3-1, 25 KOs) came up the hard way at 154 pounds, fighting overseas, far away from his St. Petersburg, Florida home as he made a name for himself with his classic boxing style.

After winning the WBO junior middleweight title in 1996, Wright finally got some mainstream attention after losing a controversial decision to a prime Fernando Vargas.


Undeterred, Wright won the vacant world title in 2001 and went on to defend it numerous times.


But he didn't enter the superstar bracket until 2004-2005, when he went through a three-fight stretch where he defeated future hall of famers Shane Mosley (twice) and Felix Trinidad.


Now settled in at 160 pounds, Wright was the victim of a disputed draw in his June 2006 bout with middleweight champion Jermain Taylor, but the 34-year-old southpaw has already moved on and is ready for any challenges that face him in the coming years.

The pride of Accra, Ghana, Ike Quartey (37-3-1, 31 KOs) burst on the boxing scene in 1994 when he stopped Crisanto Espana in 11 rounds to win the WBA welterweight championship in his 26th fight.


'Bazooka' defended his crown seven times before losing a close 12-round split decision to Oscar De La Hoya in a classic that saw Quartey drop 'The Golden Boy.'


Discouraged by the loss, Quartey would lose his next bout via a listless decision to Fernando Vargas, and then he left the game, opting to instead build up his business interests back home.


The call of the ring was too strong, though, and Quartey returned to the ring in 2005. Since then, he has won three of four bouts, only losing to Vernon Forrest in a bout most of the media scored for Quartey, and he is eager to put that defeat behind him by beating Wright on December 2nd.

In addition, fellow Tampa resident Jeff 'Left Hook' Lacy (21-1, 17 KOs) makes his return to the ring before his hometown fans as part of the undercard.


Lacy is chomping at the bit to get back in the ring and erase the memory of his last bout, a 12-round decision loss to UK standout Joe Calzaghe.


That defeat cost the St Petersburg native the IBF belt he had defended four times since he had won it in 2004, and the power punching standout is ready to make that climb back to the top.


Lacy's opponent is expected to be announced shortly but he will be fighting in a schedule 10-round bout.