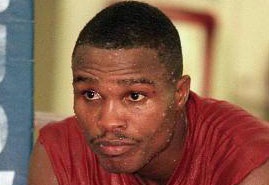 Tue, 1 Aug 2006 Source: By Ryan Songalia/EastSideBoxing
When Ike Quartey and Vernon Forrest step into the ring on August 6, both men will know exactly what their yet to be determined fates mean. Both former welterweight champions are aware that a loss all but erases any hope to reascend the plateaus they both occupied. On the other hand, a win would elevate them to the top of the wide open junior middleweight division. For two of the most gifted fighters in the world, the stakes couldn't be any higher.

Ike ?Bazooka? Quartey, 37-2-1 (31 KO), is no stranger to big fights. The former WBA welterweight titlist has been one of boxing?s mainstays for over 10 years. After winning his first championship in 1993, the Accra, Ghana fighter made seven successful defenses before facing off with Oscar De La Hoya. After trading knockdowns and being behind in most ringside observers minds, De La Hoya staged a desperate twelfth round performance, knocking Quartey down again and finishing the fight with a strong rally. When the judges announced their verdicts, Quartey found himself on the down side of a split decision.


Following the disappointment of his showdown with De La Hoya, Quartey returned to the ring the following year, challenging the then unbeaten junior middleweight kingpin Fernando Vargas. It was a spirited, high action encounter that saw both men have moments of glory.. Quartey's inactivity following his fight with De La Hoya may have come back to haunt him, as he was unable to sustain his attack for prolonged periods. Fernando Vargas retained his belt, and Quartey stepped away from the ring to contemplate his next move.


It would be nearly four years before Quartey would re-emerge into the boxing world. The Ghanain legend made his first trip back up the ring steps in January of 2005, stopping journey Clint McNeil after nine rounds in front of his adoring hometown fans in Accra. Not wishing to procrastinate discovering how much of his wondrous talent remained from his self-imposed exile, Quartey decided to face the dangerous former junior middleweight titlist Verno Phillips.


After a rocky start, Quartey's laser jab and combinations became the preeminent force in the fight during the middle rounds. While controlling the action with his forceful jab, Quartey found himself in huge trouble late in the fight. A Phillips left hook dropped Quartey and nearly stopped him in a perilous ninth stanza for the African star. Quartey recovered well and finished the fight a unanimous decision victor. After surviving the life and death struggle with Phillips, Quartey rebounded with a dominant beating of gatekeeper Carlos Bojourquez.


Since returning to active duty, Quartey has been uneven in some of his performances. "Ike Quartey looked real good on an HBO show against Verno Phillips, but just like he always does, gets into the late rounds and fades, he almost got himself knocked out", relates HBO unofficial judge Harold Lederman. "We remember he almost did the same thing with Jose Luis Lopez, almost did the same thing with Oscar De La Hoya. He seems to get into the late rounds and he lets down." However, he still seems to be in top form in spite of his long layoff. Quartey's trademark jab has been pumping like a piston, while his body attack has been a valuable addition to his offensive arsenal.


Vernon "The Viper" Forrest, 37-2 (28 KO), is also looking to reclaim his position among the sport's elite. The Atlanta, Georgia native burst onto the boxing front line when he upset then pound for pound king "Sugar" Shane Mosley. In a masterful display of one man's style being insurmountable to another, Forrest beat Mosley from pillar to post en route to a one-sided decision victory. After repeating the feat later that year, Forrest signed to unify against Nicaraguan bomb shell Ricardo Mayorga.

Forrest was a heavy favorite to defeat Mayorga, with virtually no boxing insiders picking the brawling underdog to win. From the opening bell, Forrest decided to trade bombs with his adversary. It proved to be a costly strategy, as the wild swinging mad man stopped the previously undefeated Forrest in three scintilating rounds. In the rematch, Forrest seemed mentally out of synch and affected by being stopped in his last fight. By the time he got going, Mayorga already had a sizable lead on the cards. Mayorga wound up taking a decision, and Forrest would embark on a puzzling journey down the injured reserve trail.


For the next two years, Forrest would be dogged by recurring injuries to his left rotator cuff. After having to pull out of a proposed fight with Teddy Reid, many wondered if Forrest would ever return to the ring again. Forrest finally returned in December of 2005, demolishing Sergio Rios in two rounds. After that spectacular exhibition, Forrest once again fell flat as he was extended ten rounds before finishing Elco Garcia with a fortuitous free shot.


From a stylistic point of view, its a given that whoever is able to be more effective with the jab will win this fight. World class trainer John "The Iceman" Scully also feels the jab will be a major factor in the contest. "I would have to think that the left jab is going to be the big key in the fight and Ike probably has the better overall jab", explains the former world title challenger. "However, I think Vernon's willingness to throw those longer, more accurate right hands at a busier pace off of his own jab will be the deciding factor."


Both men are in their mid-30's, but Quartey has been the more active fighter over the last year. Forrest has yet to face a world class opponent since returning to the ring and would be facing his first step up since the second fight with Mayorga. For that reason and because of Forrest's recent injury issues, I am going to pick Quartey to win a close decision.


The winner would have all the doors opened to take on any opponent he choses for the big bucks. The loser would find himself in a state that can be described as boxing hell. Dubbed "Now or Never" by promoter Lou Dibella, it would be hard to find a more appropriate way to bill a crossroads showdown between two aging champions. For Forrest and Quartey, it's time to step forward and see what they have left.

Source: By Ryan Songalia/EastSideBoxing