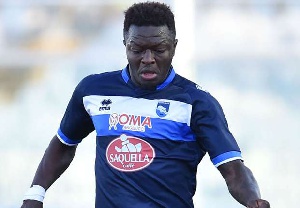 The Ministry of Youth and Sports has condemned racist chants hurled at Ghanaian footballer Sulley Ali Muntari while playing in a Serie A game against Cagliari, describing it as an "embarrassment" to the game of football.
Muntari, 32, who plays for Pescara, was shown a yellow card after he protested against racist abuse at the hands of the Cagliari crowd on Sunday 30 April. He subsequently walked off the pitch before the end of the game resulting in his being slapped with a one-game ban.

Many footballers and stakeholders have condemned the Italian football governing body for punishing Muntari rather than the Cagliari fans.

To add to that, Ghana's Ministry of Youth and Sports, in a statement signed by the Head of Public Relations at the Ministry, Elvis Adjei-Baah, said it had noted with great concern reports of racial abuse suffered by Africans in general and Ghanaians in particular in the world of sports.
According to the ministry, the recent "unfortunate and highly reprehensible incidence of Cagliari fans shouting racial slurs and insults on Ghanaian international Sulley Ali Muntari during a Serie A encounter is not only an embarrassment to the game of football, but also marks a day of shame for Italian football in particular".

"We stand in solidarity with Mr Muntari in this fight against racism and we urge the Italian and world football governing bodies to listen to Mr Muntari's side of the story, investigate why the situation was mismanaged, and take fair, unbiased, and firm action to forestall future occurrences," the statement said.