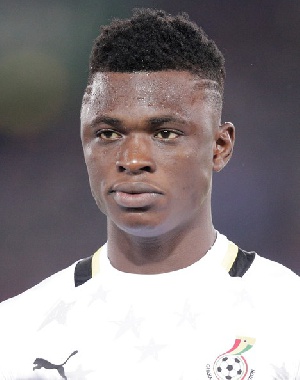 Agent of aggrieved Ghana defender Rashid Sumaila is heading for the law courts over black magic 'juju' allegations levelled against his client by a spiritualist Malam Baba Isaka Salia.
The Black Stars defender was alleged by the spiritualist to be behind the injury sustained by fellow Black Stars team mate Jerry Akaminko ahead of the 2014 World Cup in Brazil.

The Al Qadsia defender vehemently denied the allegation insisting he does not know the said spiritualist from anywhere neither is he aware of what he is being accused of.

Rashid Sumaila's agent Pedro Serpa Pinto however believes his client is innocent of the allegations leveled against him and has therefore decided to go to the law court to seek redress for defamatory remarks made about his client.

"Such is a serious allegation. We have consulted our lawyers and we are set to go to court to reclaim the image of my client.
The supposed spiritualist must tell the whole world where he met Rashid to do that negotiation and produce evidence of how Rashid asked him to afflict a curse on Jerry Akaminko," Pedro Serpa Pinto said.

Even though Jerry Akaminko has rubbished the allegations saying he has a strong relationship with Rashid, the agent believes the allegation has cast an indelible slur on the image of Rashid and the spiritualist will have to face the law to prove his client innocent.

It is however unclear as to when they will report the matter to court but GHANAsoccernet.com understands that the case will be in court before the close of the week.