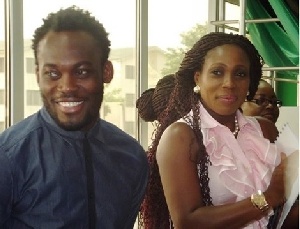 Ghanaian football legend Michael Essien and his wife Akosua Puni Essien reserved some special words for the late Ghanaian footballer, Christian Atsu.
The tribute by Michael Essien and his wife Akosua was captured in the brochure for the ceremony held on Friday, 17 March 2023.

Michael Essien revealed that on February 6, 2023, when the earthquake occurred, he was in Turkey and wish he could have done something to help Atsu.

He also opened up on his time at Chelsea with Christian Atsu and highlighted Atsu's great personality.

Read the tribute below

Football- what a beautiful game that unites people from all walks of life. To us, it is a game that knows no colour, no race, no gender and one which breaks boundaries. A game that gave us some of our greatest friendships, brothers and a real sense of community. A game that gave us you, our brother and dear friend- Christian Atsu.

Just like us, the passion of the game, the zeal to make life better for you and your loved ones, the desire to take our dear mother Ghana onto the worlds' stage took you to many parts of the world including Turkey. Our hearts are broken, we are still in shock and saddened about your sudden death.
I was in Antalya, Turkey on that fateful day and we wish there were a million and one things we could have done to help or save you, but the Lord knows best. You were one of a kind with a rare humility especially for one so young. You had an amazing smile and a real compassion for humankind.

You were without doubt a great personality and everyone felt this so much so that people seek to emulate you. You were always fun to be around and I remember the Fufu sessions and jokes in Cobham, Surrey.

Atsu you have gone too soon. How cruel your exit was. We continue to ask God many questions. Your life has been short on earth but lived to the fullest. You are indeed our candle in the wind. Atsu! Atsu!! Atsu!!! May the Angels of Heaven take you to the bosom of God where we trust we shall meet again. Rest well our brother, Rest easy our dear friend.

We will miss you always. Your loving memory will always remain a monument in our hearts.. Onua, Nante Yie.. With so much love and respect, Michael and Akosua ESSIEN.