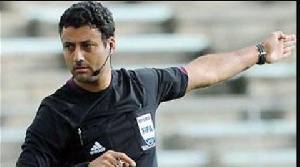 Tunisian referee Youssef Essrayi who will handle Ghana's upcoming 2018 World Cup qualifier against the Red Devils of Congo will touch down in the country tomorrow.
The 40-year-old will be assisted by countrymen Jridi Faouzi and Marwene Saad with Nasrallah Jaouadi the fourth referee.

Essrayi has officiated in two World Cup qualifying matches- hist first was Ivory Coast's 1-0 win at Liberia in November 2015 and the 2-0 defeat of Cape Verde last October.
He became an international referee five years ago.

The match will be played at the Baba Yara Sports Stadium on 1 September.