Sports News Thu, 20 Jul 2017
The Ghana Football Association leadership have always claimed that the Association's deal with Puma's does NOT include any financial entitlements.
The GFA's president and other top guns are on record to have insisted Puma ONLY supplies apparels and equipment to the association without any financial gains.

But a damning revelation has emerged that the Ghana Football Association receives a staggering amount of €900,000 euros ($1.1m) annually for the PUMA kit deal.

Ghana-Puma sponsorship deal has been in existence since 2005 but details of the agreement have remained a top secret even to bigwigs of the Association.

Atinka TV's Saddick Adams revealed a document on his 'Sports Court Show' on Monday, glaringly showing a draft contract of the 2015 contract of the Ghana FA and Puma deal.

The document shows a portion of the Puma-GFA deal that indicates that the GFA is due a FIXED amount of €900,000 every year.
"Aside the supply of apparels, the German kit company pays the Ghana FA an "ANNUAL FIXED FEE" of €900,000. First tranche of € 425,000 in June, and the remainder before 31st of December every year, " he revealed.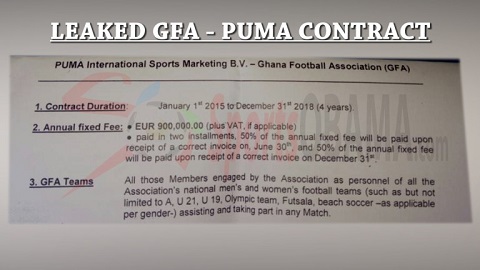 Portion of the leaked Puma-GFA Deal: Credit (SportsObama.com)

Now, that money does NOT sit in the Ghana FA accounts, and has NEVER been properly accounted for.

This is at least from the 2010–2015 year copies of the GFA budget statements available to our outfit.
The contract was signed by the GFA president ALONE, and NO current member of FA (including the vice) can claim knowledge of how these monies have been received and disbursed from Thursday 2nd September 2005, when the deal was signed.

Previously when this question has come up, the GFA boss would come up with a very lame defense that, Puma ONLY supply kits to Ghana – without any additional financial commitments.

For PUMA to place their brands on a big team like the Black Stars, to play and give the company such global mileage in AFCON and World Cups. Only for jerseys and training kits? .

The BBC reported the Ghana FA and Puma deal to be worth $12million in 2005.

When both parties agreed to a 4 year extension in January 2008, BBC again reported the deal to have risen to $25 million. A new extension was again signed in 2015. These are figures quoted by BBC, a platform that would independently verify from sources before putting such figures public.
So the Ghana FA essentially implying that Puma is only supplying jerseys to the tune of over $25 million within 4 years?

If the GFA attracts that much from the deal as the leaked contracts suggest, it would only be prudent for the sports ministry to question the use of that money and further direct it into other profitable ventures to reduce the burden on the government.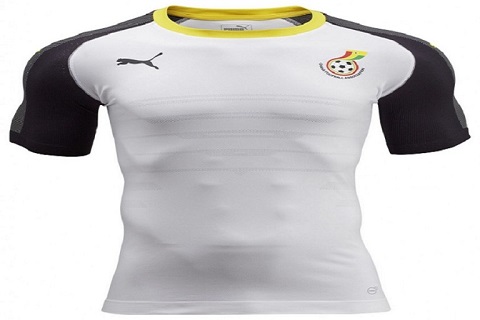 These latest revelations must trigger questions from the sports ministry and other supervisory bodies on how they are expended