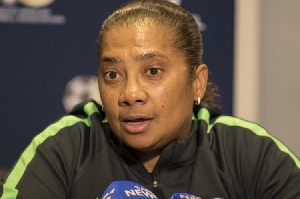 South Africa head coach, Desiree Ellis, has set her sights on the second dose of glory as she leads her team to the final of the 2018 Africa Women Cup of Nations.
Banyana Banyana made history on Tuesday by qualifying to 2019 Women's World Cup to be staged in France.

But, the team are hungry for more.

"It would be naive to come to a tournament and you don't [aim to] to win it," Ellis told ESPN.

"Our first goal was to qualify for the World Cup and we achieved it. The scenes after the game said it all. It was very emotional. A lot of the girls were in tears and big smiles on their faces, but that is over."

In Saturday's final, Ellis and her team will face the Super Falcons of Nigeria who will be hoping to retain the title they won in Cameroon two years ago and get revenge over South Africa for their opening loss.
"It would be naive of us to continue to celebrate when there's an opportunity for us to go for gold, but we're coming up against a team who have been there, done it.

"They've been on this position countless times, knows how to close it out but we know what we are capable of, we know that we are able if we put our best game forward." Ellis said.

The former South African midfielder is aware of the threat the the defending champions will pose but is adamant she has the quality to join Nigeria and Equatorial Guinea as the only countries to have won the continental tournament.

"We have the quality to win this," she continued "We know it is not going to be an easy match but we do have the quality. We've shown over the whole tournament what the team is capable of.

"I don't think we've really been at our best throughout the tournament but this is the final, this is a one-off and we've got to execute our plans really well."
To beat Nigeria, Banyana will have to complete their best performance according to Ellis.

"To beat a top side you need to be at your best."

South Africa have finished as runners up on four different occasions in the tournament's history. A fact which could be used by Ellis to provide extra motivation for her team, although she insists that defeat will not define their campaign.

"Defeat in the final will definitely not to be a failure. You have to fail to succeed.

"If you cannot understand what failure means, if you cannot take a loss, you cannot celebrate a win but I think the failures of the past will really motivate this team, the failure of the past will really push us to the limit, the failure of the past will make sure that we go out there and give a good account of ourselves and what ever the result will be, we've got to walk off the field and say 'we have given our utmost best."