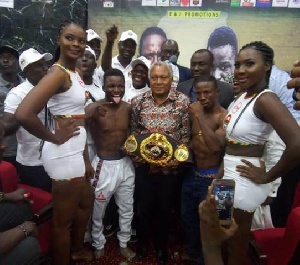 World Boxing Organisation (WBO) Africa Super Bantamweight Champion Isaac Sackey and National Super Bantamweight champion Wasiru Mohammed, all fell within the 122 pounds weight mark for their title fight on Saturday evening.
Sackey, who would defend his title in a bout dubbed the "battle of the undefeated" weighed 110 pounds, whilst his challenger, Wasiru weighed 121 pounds.

The fight promoted by E&J Promotions would be held on Saturday, October 13, at the Bukom Boxing Arena.

Sackey comes into the fight with a record of 23 fights, no defeat, no draw and 19 of his victories have been through knockouts.

Wasiru, however, holds a record of 11 fights with victories in all and has nine knockouts.

The bout would be Sackey's first defence of the title against of the best bantamweight boxers in the country.
The two pugilists have promised to give out their all on the night of history. They both said they expected a knockout bout and were prepared for it.

Mr Samir Captan, President of WBO Africa, said the records of both boxers were worthy of the title belt at stake.

He said he expected an impressive fight and called all and sundry to be there to witness a great fight.

Mr. Abraham Kotei Neequaye, second vice president of the Ghana Boxing Authority (GBA), said the GBA has sanctioned the bout and wished both boxers well in the fight.

He thanked the promoters for their immense effort in the bout and to Ghana boxing.
E & J Promotions meanwhile announced four pairings on the undercard of the show billed for the night.

The undercards on the night include a super featherweight contest between Eric Quarm and Daniel Ankonu, Super middleweight contest between Kofi Johnson and David Ehizojue.

Others are a Lightweight contest between Charles Amatefio and Samuel Opaugun. There will be other Amateur fights in the middleweight and flyweight division.

Meanwhile, Sackey was fined five per cent of his fight purse by the WBO and GBA for appearing late for the pre-bout conference.

Tickets are priced at GH¢100.00 (one hundred Ghana Cedis) for VVIP, GH¢50.00 (fifty Ghana cedis) for VIP and GH¢20.00 (twenty Ghana Cedis) for popular stand and can be bought from all Adehyeman Savings and Loans Accra branches or at the main gate of the Arena.