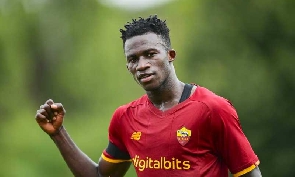 Cremonese's sporting manager Ariedo Braida has stated that striker Felix Afena-Gyan will slowly show his full potential but he needs to continue working hard.
Last summer, the talented teenager surprisingly departed AS Roma on a permanent transfer although it had become clear he was one of manager Jose Mourinho's darling boys.

Felix Afena-Gyan's agent Oliver Arthur has also indicated that he does not agree Felix Afena-Gyan's move to Cremonese was a bad one.
"He needs time and space, but to find them you also have to deserve them. Our coach has been giving him some space lately. The boys need to play continuously, but they have to demonstrate," Ariedo Braida told TvPlay CM IT.

"He must mature while remaining in the perspective of the first team, he is starting to learn, to gain his first experiences and slowly he will show his qualities, it takes a little patience,"