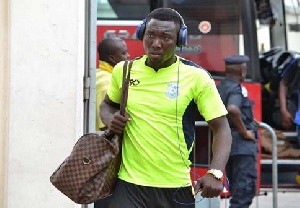 Maritzburg United goalkeeper Richard Ofori is hoping that the South African Premier Soccer League (PSL) will resume after the coronavirus break.
Ofori, 26, has been in top form for Maritzburg United, helping them to place 5th on the standings before the league was halted in March due to the coronavirus crisis.

South Africa are contemplating of joining a host of other African countries in truncating the 2019/20 season due to the global pandemic.

The Ghana international was asked if he would prefer the campaign to be scrapped and started afresh when the covid-19 outbreak goes down.

Ofori insisted that it will not be an easy decision for the PSL and South Africa's football's authorities, saying he is keen to finish the season on the field.

"It is a very difficult situation," Ofori told Phakaaathi, as quoted by Sports24.
"I think we just have to go back and play because they can't say they are ending the league, as that will lead to a lot of confusion."

"Teams have already lost a lot of money. And those who will be relegated will feel bad. And those who are in the first division who feel they can still get to promotion will feel bad."

"It's a difficult decision for the [PSL] board to decide, but at the end of the day whatever decision they take we can't say no. They know best and the importance of everything."

He added: "I can't speak for everyone but for me, I am not scared. The decision will be made having considered everything [risks]. I have already psyched myself for whatever happens. If they cancel, or decide to continue, I will be fine."