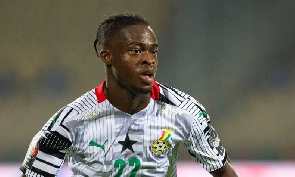 Southampton forward, Kamaldeen Sulemana has shared his thoughts on the difference between playing in the World Cup and the Africa Cup of Nations.
According to the Ghana international, the World Cup is the pinnacle of football as it is a global tournament that attracts a huge audience.

Sulemana, who previously played for FC Nordsjaelland, also noted that participating in the World Cup is an invaluable experience that can help players develop their skills. He expressed his desire to feature in more international matches in the future.

Speaking on Peace FM, Sulemana said, "My first tournament with Ghana was the Afcon, and it is so different from the World Cup. The World Cup is a whole different game. It was a big experience for me and a lot to learn from. It is a great honour."
He added, "We are about 30 million people in the country, and being chosen to represent Ghana is a great honour. Once you are on the pitch, there is no holding back. You give your all because there are so many people looking up to you and depending on you, so there is a bit of pressure there."

Sulemana also emphasized the importance of rising to the challenge of playing at the highest level and the positive impact it can have on a player's performance.

"We do our best, and with pressure, we get out of our comfort zones. So, it is a great honour to play for the national team, and I am looking forward to playing more with them," he said.