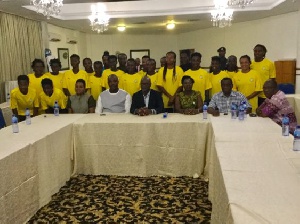 Minister of Youth and Sports Hon. Isaac Asiamah and the Normalisation Committee of the Ghana Football Association have urged the Black Queens to make the nation proud by clinching the CAF Africa Women's Cup of Nations, which commences on Saturday.
The Normalisation Committee and the Sports Ministry visited the Black Queens' camp on Thursday ahead of the biennial women's competition, and they both implored the team to set sights on the trophy.

President of the Normalisation Committee, Dr Kofi Amoah assured the team of their support as well as Ghanaians and urged them to win the elusive AWCON trophy.

"We are here to assure you of our support and convey to you the support of fellow Ghanaians and the Normalisation Committee." Dr Kofi Amoah told the team.

"What I have seen here this evening; the determination and the camaraderie is beautiful. You have an opportunity to do something great and I urge you all to remain united and focused so that you can go all out and achieve something great for the country and yourselves," Dr Amoah said.

The Sports Minister, on behalf of the President of Ghana conveyed a special message of goodwill to the team and urged them to go all out for the trophy.
"The whole country is behind you and the President, Nana Addo Dankwa Akufo-Addo, wants you to win the Cup. He expects nothing but gold," the Minister said.

Hon. Asiamah reminded the players that wearing the national colors and representing nearly 30 million people is a great privilege, which should serve as enough motivation for them to give off their best for mother Ghana.

"Get us the cup, get us gold and I can assure you that President Akufo-Addo and Ghanaians shall reward you handsomely. We will be there on Saturday to support you so we want you to start on a bright note."

The Head coach of the team, Bashir Hanford expressed the team's readiness for the task ahead and thanked the Minister, the government and the Normalisation Committee for the support offered the team during their preparations.

"We are grateful for the immense support you have offered us through our regional tour as well as sending us to Zambia and Kenya for a training tour," the Coach noted.
The captain of the side, Samira Suleman was also appreciative of the support towards the team's preparations for the tournament.

Members of the Normalisation Committee, Mrs Lucy Quist, Miss Naa Odofoley Nortey and Lawyer Duah Adonteng were also present at the meeting.

The Black Queens will open the tournament against Algeria at the Accra Sports Stadium tomorrow (Saturday).