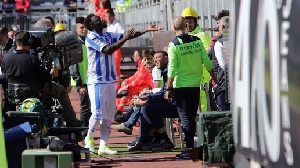 Ghana's Ministry for Sports has condemned the unending racial abuse on African sportsmen with particular interest in the recent case of its international, Sulley Ali Muntari.
In a statement showing solidarity with the 32-year-old Pescara midfielder who was at the receiving end of unsavory chants from some fans during a game against Cagliari in the Italian Serie A last Sunday, the Ministry noted that the act which has gone unpunished "is not only an embarrassment to the game of football, but also marks a day of shame for Italian Football in particular."

"We stand in solidarity with Mr. Muntari in this fight against racism and we urge the Italian and world football governing bodies to listen to Mr. Muntari's side of the story, investigate why the situation was mismanaged, and take fair, unbiased and firm action to forestall future occurrences," part of the statement read.

While Muntari made efforts to call the attention of the referee in charge to halt the game, he was ignored and further got booked. The Italian Federation also failed to exact sanctions on the club with the excuse that only 10 fans were involved in the act.

Read in full, the Sports Ministry's statement:

MINISTRY OF YOUTH AND SPORTS AGAINST RACISM AND CALLS FOR DRASTIC REFORMS IN ADDRESSING THE MENACE

The Ministry of Youth and Sports has noted with great concern reports of racial abuse suffered by African Sportsmen in general and Ghanaian sportsmen in particular in the world of sports.
The recent unfortunate and highly reprehensible incidence of Cagliari fans shouting racial slurs and insults on Ghanaian international, Sulley Ali Muntari during a Serie A encounter is not only an embarrassment to the game of football, but also marks a day of shame for Italian Football in particular.

We stand in solidarity with Mr. Muntari in this fight against racism and we urge the Italian and world football governing bodies to listen to Mr. Muntari's side of the story, investigate why the situation was mismanaged, and take fair, unbiased and firm action to forestall future occurrences.

——signed——

ELVIS ADJEI-BAAH

HEAD, PUBLIC RELATIONS