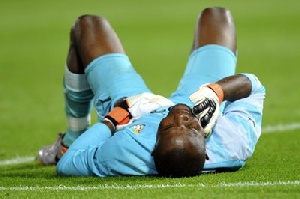 Thu, 8 Sep 2011 Source: KICK OFF Ghana
Ghana coach Goran Stevanovic is warning players inactive at club level they face the axe from the Black Stars, despite his staunch support.

The Serbian showed a ruthless streak in his recent decision to axe goalkeeper Richard Kingson, who is without a club, replacing him with the more active Adam Larsen Kwarasey.


But he has also solidly backed Sulley Muntari, out of favour at Intern Milan, picking him for what turned out to be a poor display against Swaziland, ahead of Kwadwo Asamoah whose season has already started well with a couple of good games for Udinese.


Jonathan Mensah is struggling for first team football while in the past Stevanovic has continued to call-up Dominic Adiyiah even when he was not playing at club level.

But Stevanovic says that is about to change.


"It's very important that all players try to play in their clubs because we have one problem where the majority of players are not playing.


"It's better to play one game than 10 training sessions," Stevanovic told Joy FM.

Source: KICK OFF Ghana