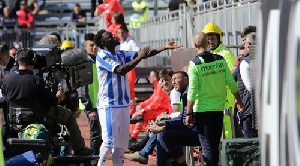 Sulley Ali Muntari has been suspended by the Disciplinary Commission for walking off during Cagliari-Pescara due to racist insults,but Inter and Lazio have suspended bans.
The incident caused huge controversy in Serie A and beyond, as the midfielder was booked by the referee for dissent.

The Ghana international then became angry and walked off the field, as the official refused to stop the game.

Not only has the Muntari yellow card not been rescinded, and therefore he is given a one-match ban, but also Cagliari have avoided any punishment for the racist chants.

This is because the officials at the ground wrote in their report that the racist chants were coming from only around 10 people, thus less than one per cent of the circa 2,000 in the stadium.

They also noted it was only audible because the rest of the supporters were staging a 'silent protest' and therefore the decision was made not to penalise Cagliari, not even with a warning or a fine.
However, racist chants were clearly heard from Inter fans aimed towards Napoli defender Kalidou Koulibaly "from 80 per cent of the 7,000 people" in the 'secondo anello verde' section of the stands.

That section of San Siro is therefore closed, albeit only as a suspended sentence for a period of a year.

The same punishment was aimed at Lazio and the Curva Nord, where again 80 per cent of the 7,000 people in that area were judged to be taking part in the racist chant towards Roma defender Antonio Rudiger.

Lazio's Curva Nord was given a suspended sentence for one year, pending closure of that section.

Inter were also fined €10,000 for chants of 'territorial discrimination' against Napoli supporters and Genoa fined €15,000 for throwing fireworks.