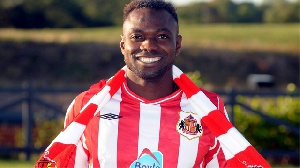 Wed, 21 Apr 2010 Source: mail
Sunderland boss Steve Bruce has opened talks to sign Ghana captain John Mensah permanently.
And the Lyon defender has told Bruce says he wants to stay on Wearside and extend his stay at the Stadium of Light beyond the end of the season.

Sunderland have paid all of Mensah's wages during his season-long loan and if they cannot reach an agreement on his fee, the Black Cats have indicated to the French club they would be happy to continue that deal to keep him at the Premier League club for the rest of his three year contract.

The major concern regarding the 27-year-old and his chances of sealing the £6million move is his fitness.

Mensah has only played 16 games for Bruce since his summer move because of a back problem which prevents him from training and completing the matches he does play.

But Sunderland have lost only four of the games he has been involved in – to Manchester City, Arsenal, Everton and at home to Aston Villa.
The Sunderland boss withdrew Mensah at half-time during the 2-0 win over Burnley on Saturday and has protected him throughout his loan spell to prevent more serious injuries affecting other parts of his body.

Cash to spend: Steve Bruce expects John Mensah to cost around £6m But Bruce is still keen to sign Mensah and add him to the squad which still has its sights set on tenth place.

The Sunderland manager said: 'John's happy here, he's fitted in well, he's good in the dressing room and he wants to stay with Sunderland. That's something that shouldn't be overlooked.

'Everyone's thinking about what Sunderland might want to happen or Lyon, but what John wants is important too. And John would like to stay with us. It's a good starting point when it comes to looking at what's going to happen this summer.

'The simple fact is, we're a better team when he's in it. Yes he's got a terrible injury record but the temptation is always to think: when he's fit, he plays and that's simply because if he's anywhere near fit and he plays, he improves us every time.
'Talks would have begun already but the problems caused by the no-fly zone around Britain and parts of Europe has held that process up but when we do get to sit down though, we're at the point where Lyon know we want him and John is happy to stay.

'The problem you've got is that he's a £10 million player – that's what Lyon paid for him – and that's what we're dealing with. And John is a £10 million defender, there's no doubt about that.

'He's that good a player when he's fit. But of course I don't think anyone would entertain paying that sum of money for him because of his injury problems. 'We're looking at ways and means of getting him through games in order to get the best out of him.

'It's important we do that because he's some player and the more we have him on the pitch in each game the better our chances are of getting the results we're after.'
Source: mail