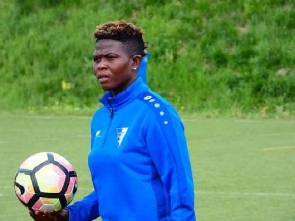 Black Queens player, Priscilla Okyere has shared her horrifying experience of the devastating earthquake that happened in Turkey on Monday, February 6, 2023.
In an interview with BBC, Okyere said she has had sleepless nights for four days since the tragic event because she is traumatised.

She added that although she and her colleague footballers have been relocated to a safe place, she still cannot sleep.

"I have not been sleeping for four days - I'm so scared to go to sleep.Even today, we had a safe place to sleep. I haven't closed my eyes from 5 am till now. When someone bangs the door, I wake up because I'm scared. I don't want to close my eyes and realise this thing is happening again."

The 27-year-old together with her seven roommates have been relocated to Ankara, Turkey's capital. She disclosed that she cried for days after the incident.

"I was terrified. I cried for days," she explained.
"I can't imagine how lucky we were to get out from that situation, because most people couldn't get out But we were able to."

Okeyre, who is an eyewitness to the tragic event, narrated how the earthquake started when she had just returned from Istanbul after a game.

"We were coming from a game in Istanbul and we weren't home until around 2am," she said.

"We had to shower and then get some sleep. At first, I thought I was dreaming because since we came to Hatay, I experienced (tremors) it two times. Sometimes the building would just shake within 30 seconds and it stops.

"When it happened, I thought it was a normal thing but I realised this was much more intense than the previous ones."
She continued that he ran outside, although it was raining heavily, and found shelter in someone's car until everything settled.

"When I got down, the buildings were just collapsing, and everybody was crying, trying to find shelter," she said.

"It was raining heavily outside, and everyone was cold. We were not wearing any jackets - nothing. We had gone outside barefoot. We weren't even thinking about how cold we were at that moment. What we wanted to think about was how to get our passports.

"We had to find a shelter in someone's car for almost five hours before the whole thing calmed down, and then we were able to go back to the house."

Priscilla added that within the disturbing moments, all she could think about was her mother.
"The first thing that came into my mind was my mother, because she's always worried about where I am and always want to know what is going on. But we couldn't communicate directly to our family because all the networks were not working.

"But you could call within Turkey, So I spoke to my agent, and I gave him my mother's number so he could talk with her and make sure that everything is okay."

Priscilla Okyere plays for Hatayspor female team while her compatriot, Christian Atsu, who has been missing since the event, plays for the men's team.

When asked about hearing from Atsu, she said the men's team lives quite a distance from the female team and that she has not heard from her compatriot since the earthquake.

"We don't know anything about the men's team because they live far from us, even though we live in the same city," she explained.
"But our brother (Christian) Atsu, we always talk to him on phone. He texts us all the time.

"Since the incident happened, nobody knows his whereabouts. We don't even know what is happening."

Priscilla Okyere concluded that she needs a break and to spend time with her family.

"For me, only thing that is in my mind right now is I just want to go back to Ghana. At least have one week or two weeks rest with the family."

EE/KPE