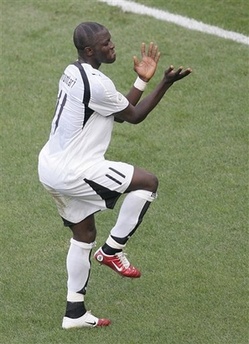 Wed, 14 Aug 2013 Source: Christopher Opoku
Many people know about my concerns regarding Ghana's 2014 World Cup qualifier against Zambia next month. For me, it is a make or break match for us, with the Black Stars' qualification for the Brazil showpiece next year.
Personally, I believe that for such a match, any team would need its experienced players who are playing well and regularly for their clubs.

So I am not ashamed to declare my joy at the fact that Kevin Prince Boateng is taking the necessary steps to return to the Black Stars.

I am however concerned about a potential standoff between Boateng's AC Milan team-mate Sulley Muntari and Black Stars head coach Kwasi Appiah.

The facts of the matter are simple. Muntari reacted angrily when he was substituted during Ghana's 2-0 win against Lesotho in a World Cup qualifier back in June.

According to reports, he again lashed out at Appiah after the match in the dressing room, in front of his team-mates.
I am reliably informed that Appiah refused to react in a like manner and still keeps his calm façade, but deep down, the former national captain is incensed at what he views as a direct affront to his authority, not to mention the humiliation in front of the other players.

As the Ayews found out, Appiah has a steely and ruthless determination to get his way and in this case, will not consider Muntari again for selection unless the former Inter Milan and Portsmouth midfielder apologises for his actions.

On the flip side, Muntari does not feel he did anything wrong and as he put it on TV3's Diva Show a few weeks ago, "If you are substituted at a time you don't expect, definitely you will react. But it is in the past and I have explained my actions to the coach. I have told him how I felt at that time. I never meant to disrespect him."

Muntari seems to think that what happened in Maseru is part and parcel of football, but in my opinion, he got it wrong there.

Even if he had problems with being substituted, he could have had a quiet word with Appiah after the game.
He could have told Appiah privately what his feelings were and Appiah would have explained it to him.

That would have been a far better way of dealing with the issue, rather than tongue-lashing the head coach in front of his team-mates.

That was a display of total disrespect and it is a pity, particularly as he has helped team captain Asamoah Gyan to rally the players around and that was why Ghana beat both Sudan and Lesotho in two consecutive away matches.

I am reliably informed that many efforts have been made by the Ghana Football Association to get him to apologise to Kwasi Appiah.

For instance, GFA Emergency Committee member Felix Ansong, who oversaw Muntari's development at Liberty Professionals, has been in talks with the player.
In addition, his mother, Hajia Kande, who once infamously said, "No Muntari, no Black Stars" and his father have all had a word with him, but Muntari is still reluctant to apologise.

In my books, Muntari has to apologise so that this incident would be put behind him. Besides, how can Kwasi Appiah select him without an apology?

That would be tantamount to endorsing player indiscipline in camp and another player could take a cue from what Muntari did and do the same thing again.

As big a player as Muntari is, having won the UEFA Champions League with Inter Milan and the English FA Cup with Portsmouth, he should know when to draw the line and in my opinion, he needs to make a move.

Otherwise, should he remain intransigent and the Black Stars qualify for the World Cup, not even a gun held to Appiah's head would convince the coach to select him for the World Cup proper, irrespective of the form he could be in at that time.
In as much as I remain a strong advocate for effective man-management regarding players, in Muntari's case I cannot fault the GFA's efforts in this regard.

I also think that the Black Stars will need him for the Zambia game in Kumasi as a wise old head on the pitch for the other players, but that shouldn't mean that any wrong act on his part should be condoned.

So Sulley Ali Muntari, my message to you is simple; swallow your pride and apologise to Appiah!
Source: Christopher Opoku