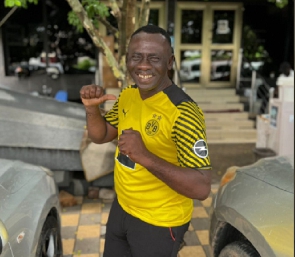 As the search and rescue continue, prayers are still being offered for Ghana winger Christian Atsu who happens to have been trapped in the remains of a collapsed building in Turkey following an earthquake in the country.
Eight days on from when the disaster struck, Ghanaians are still hanging on to the faintest of hopes that Christian Atsu is still alive and will be rescued very soon.

One thing that has stood out in the whole Christian Atsu has been Christian Atsu's benevolence and humanitarian acts.

Despite reaching the career highs of being a Chelsea player and winning the Most Valuable Player award in an AFCON tournament, the most dominant and fondest memories of Christian Atsu by most Ghanaians is the number of times he has reached out to the needy and came to the help of persons in unfortunate situations.

The latest person to celebrate this highly commendable aspect of Christian Atsu which has become the point of contact in prayers for him is celebrated actor and newscaster, Akrobeto.

In an episode of his 'Real News' show, Akrobeto joined thousands of Ghanaians fervently praying for Christian Atsu and revealed an instance where he became a beneficiary of Christian Atsu's kind-heartedness.

Akrobeto disclosed that Christian Atsu once gifted him 800 euros through colleague actor, Kwaku Manu.
"I have seen Atsu on TV but never met him personally but he sent money to Kwaku Manu to give to me. He said he enjoyed the Real News as it became a source of entertainment for him while in Europe. Kwaku Manu told him I'm his uncle and he asked him to give me the money to show appreciation for the work I do. Someone close to him also called to check if I had received the money. I expressed my gratitude to him.

"I don't know him but I was shocked by how showed love to me. Quite recently he helped to free some prisoners. We call all die at anytime so work on your soul. It cannot be confirmed that he is alive or dead but imagine what he is going through. It is very painful. Let's all pray for him and stop the unnecessary speculations," he said

Atsu, who plays for Turkish side Hatayspor was trapped under the rubble after the February 6 earthquake that struck the southern part of the country and parts of Syria.

It has so far claimed the lives of over 35,000 across the two countries with the death toll continuing to mount. Many more thousands have also been injured whiles rescue efforts continue in earnest to find more survivors who may be under the rubble.

Atsu's case has attracted a lot of interest in Ghana and across the world with his British wife calling on the Turkish and British authorities to expedite action in rescuing the former Chelsea, Newcastle player in an interview with the BBC last week.

Watch the latest sports video on GhanaWeb TV








KPE