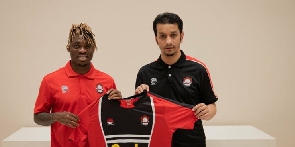 The agent of Christian Atsu, Nana Sechere has complained about the pace at which the rescue team is working to retrieve the people trapped under the rubble following the earthquake that hit Turkey.
The 2015 AFCON Best Player has been missing alongside Hatyaspor technical director, Taner Savut, on Monday, February 6, 2023, following a 7.8 magnitude earthquake that hit south-central Turkey and Syria.

Providing updates on the search for the player, Nana Sechere who is currently in Hatayspor, revealed that the search is going slow because the rescue team are under-resourced.

"Things are moving incredibly slow and as a result of that many rescues are being delayed, and lives are being lost due to the lack of resources available to the workers. It is unfortunate that the club is not on the ground with us, side by side, in the search for Christian," Nana Sechere wrote in a tweet sighted by GhanaWeb Sports.

He added that they have found the site where the building which was housing Christian Atsu was located but they have still not been able to find him despite retrieving two of his shoes.

"It has been 9 days since the earthquake and we still have not located Christian. I am at the quake site in Hatay with Christian's family. The scenes are unimaginable and our hearts are broken for all the people affected. During my time here we have been able to locate Christian Atsu's exact room location, and we have found two pairs of his shoes," he added in his Twitter post.
It has been 9 days since the earthquake and we still have not located Christian.

I am at the quake site in Hatay with Christian's family. The scenes are unimaginable and our hearts are broken for all the people affected.

— Nana Sechere (@iAmNana7) February 14, 2023
Watch the latest sports video on GhanaWeb TV