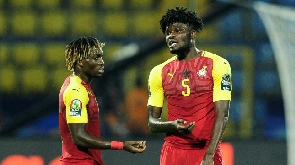 Black Stars midfielder, Thomas Partey has said he is yet to accept the death of his former Black Stars teammate Christian Atsu.
He said he was locked up in his thoughts for a week after learning the news about Atsu's passing.

Partey expressed that he is sad, adding that during his long thinking period, he put himself in Atsu's shoes because it could have been him.

"I still don't believe Atsu is no more, which is very sad. During that week or the week before I was thinking a lot. I was thinking all these things, comparing myself because it could have been anybody and it was him so I was just sad."

Thomas Partey continued that he had to beg Arsenal's kitman to print a 'Rest In Peace Christian Atsu' tribute message on his shirt before their game against Bournemouth. He, however, failed to show off the inscription when he scored.

"I had the shirt on. The day before the game, I called the kit man to print it for me, begging him to do it for me. I just wanted to wear it. And when I scored I didn't want to show it because I knew it was not the right time. We were losing 2-1 and we had to win the game. We believed he could win. I believed we were going to win the game so we had to take the ball quickly and go. So I was just going to clean my face and I had that under and it showed," he said.
He further explained that because Arsenal were losing when he scored he could not pay the tribute as he wished.

"People will misunderstand that I didn't want to show or I was scared of getting a card or anything but that was not the thinking I had at that time. I would have shown if we were winning 1-0, so it's just the situation."

Thomas Partey's goal inspired Arsenal to come back from a two-goal deficit to win 3-2.

Christian Atsu passed away after he was trapped to death following an earthquake that occurred in Turkey in February.

EE/KPE