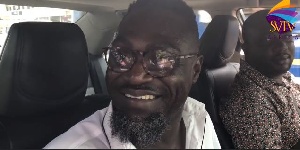 Country Man Songo after two months of being away from TV following a suspension slapped on him by the multimedia group over alleged misconduct has finally spoken.
According to him, he went to have a good time with his family in the US indicating he actually enjoyed himself while away and off duty

"I've been with my family. I have kids and a wife and they need me sometimes so its fun to be with them. To God be the Glory."

He, however, failed to answer the question on when he will be seen on TV after he was taken off some two months ago following pressure on the Multimedia Empire by some football people.
Songo when asked about his opinion on the President of the Ghana Football, Kwesi Nyantakyi, a coy Songo said "To God be the Glory" and drove off without answering the question.

Country Man Songo is one of Ghana's journalist who has always called for the "head" of the FA President and has on several occasions described him and his cronies as corrupt and incompetent.