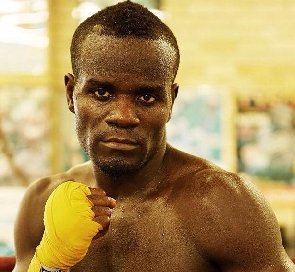 On this day 7 April 2007(Exactly 13 years ago today) Joshua Clottey completely dominated Diego Corrales, knocking down the former world champion twice in a unanimous decision in their 10-round welterweight bout.
It was too much, too soon for Diego "Chico" Corrales. Attempting to move up two weight classes against a dangerous, world-ranked, full-fledged welterweight, the three-time world champion was battered and beaten up by Joshua Clottey, who scored two knockdowns en route to registering a clear-cut, dominant 10-round unanimous decision.

It was an exciting, albeit one-sided slugfest from the outset. As expected, there was little dancing or posing and the boxers performed with as much determination and courageousness as any one could expect. Both stood their ground on the inside and connected with their best shots

The naturally bigger Clottey (31-2, 1 NC, 20 KOs), was always a tad faster, quicker — and especially — stronger than Corrales (40-5, 33 KOs), who suffered his third consecutive defeat.

Seemingly as fresh late as he was early, Clottey scored one knockdown in the ninth and another in the 10th en route to triumphing by 100-87, 98-89 and 97-90. Corrales had a point deducted in the 10th for spitting out his mouthpiece after going down. His mouthpiece also came out after the initial knockdown.

"Corrales was tough and this was not an easy fight," said Clottey, the World Boxing Organization (WBO) No. 4 contender, who broke Corrales' jaw in the middle rounds, rocked and staggered him throughout with pin-point combinations to the chin and cut him over the right eye in the later sessions.

"I expected a hard fight and that is what I got,'' Clottey continued. "But I knew from the beginning that I had him, that if I fought my fight I would wear him down. This is a huge win. I am very happy. I got an opportunity and I was able to make the best of it. This puts me right where I want to be.''

Clottey was coming off a close decision loss to WBO welterweight champion Antonio Margarito in a bout Dec. 2, 2006, in which he re-injured his left hand.
"My hands did not give me any trouble tonight," Clottey said.

Corrales, a world champion at 135 pounds and two-time world champ at 130, has always readily accepted any and all challenges, so he knew going in he was taking a major risk.

"I do not think I made a bad decision because I was able to fight the kind of fight that I wanted, which was on the inside," he said. "I was hurting him with body shots. I think my jaw was broken in the fifth round. My corner asked me if I wanted to keep fighting and I said yes.

"My main concern now is getting the jaw fixed. Once that it is taken care of, I am going to sit down with my team and decide if I want to stay at 147 or go down to 140.

"Clottey deserves credit. He caught me with a couple of great shots.''

Bout Summary

Date: 2007-04-07
Location: Shrine Mosque, Springfield, Missouri, USA

Referee: Mike England

Judge: Leo Johnson 89-98

Judge: Jerry Griffin 87-100

Judge: David Sutherland 90-97

On this day 7 April 2001(Exactly 19 years ago today) Former WBO bantamweight champion, Alfred Kotey, made a sensational come-back at the Conference Center, Wembley, London, England to win the vacant World Boxing Federation Intercontinental lightweight title against British fighter, Anthony Maynard.

After being knocked down in the earlier rounds and subjected to severe beating for six rounds, the Birmingham man refused to answer the bell for the seventh round.
The fight, promoted by Tommy Gilmour's St. Andrews Sporting Club, was originally billed as a Commonwealth lightweight championship fight but that had to change following an intervention by the Ghana Boxing Authority.

Promoter Gilmour had earlier announced that James " Bukom Fire" Armah, who held the Commonwealth titles in both the superfeatherweight and lightweight divisions, had relinquished the lightweight version of his double championship.

But in reaction to that, the GBA wrote to the Commonwealth Boxing Council that " Armah had not expressed any intention to relinguish that title " and refused to endorse any activity of Kotey in London, accusing him and his handlers of breaking the GBA 's disciplinary code by leaving without the authority's approval.

Following pleas from other quarters, however, the GBA reviewed its earlier position and allowed Kotey to go for the WBF title on a number of condition.

Among the conditions, the boxer was asked to pay £200 as percentage to the GBA and a fine of £500 "for treating the GBA with contempt."

He also paid an amount of £35 for telephone and fax expenses and his manager Mr Yoofi Boham was asked to pay £200 " which he had refused to pay to the GBA as manager of Eric Odumase in his Commonwealth fight against Scott Harrison."

According to the GBA, the recoverable amounts should be held by Mr Tommy Gilmour on behalf of the authority.
On this day 7 April 2015(Exactly 5 years ago today) The former Ghana FA President Kwesi Nyantakyi was re-elected unopposed as a member of the CAF Executive Committee for the Zone West B during the 37th Annual General Meeting in Cairo, Egypt.

In February 2011, Nyantakyi won the CAF Executive Committee seat in a landslide victory after polling 34 votes, 15 more than what Benin's Anjorin Moucharafou garnered.

He became the fifth Ghanaian to become a member of CAF's Executive Committee after Ohene Djan (1961-1966), Kobina Hagan (1961-1962), Nana Fredua Mensah (1968-1972) and Samuel Okyere (1990-1994).