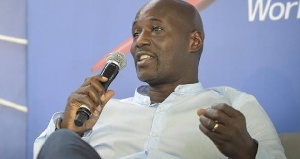 In an interview with German newspaper "Sueddeutsche Zeitung," Ghanaian football legend and official Anthony Baffoe told readers about Africa's new strength, Ghana's World Cup chances and the long way the team has come since the sorrowful knock-out in 2010. We've got you covered.

They call him football diplomat: Tony Baffoe, born and raised in Germany but now actively engaged in Ghanaian football like few others, is in high demand from German media at the moment. Newspapers and magazines want to know: What's going on with African football? Should we be scared of Ghana? How far will they go?


"Africa is stronger than most people like to think," Baffoe tells Sueddeutsche, and the team he especially has in mind saying that, is obviously Ghana: "We believe that we can win the World Cup, and it's not just us who believe that."


Baffoe doesn't like all the European talk about the Brazilian climate, though. "Most of our players work for clubs in Europe, so they're not really exposed to extreme or volatile climate in their everyday life." He sees, however, one possible advantage: "It might help that our players are used to adapt well to different conditions."


But the real reason Baffoe believes in Ghana's success is a whole different one: "At a World Cup, especially like this one, everything depends on will. Whether you're talking about preparation, fitness, environment, quality of players – up from a certain level, everyone is on the same page. And then, the decisive element is will, and we have a lot of that among our players."


Since the World Cup in 2010, a lot has changed. The expectations for the first World Cup on African soil were high, and so was the pressure. Gyan only hitting the crossbar after Suarez' shameful handball was the sorrowful knock-out for Ghana's World Cup hopes and has surely left scars behind.

At the Black Stars' farewell dinner in Accra, President Mahama told the Ghanaian squad: "We expect you to die a little for your country. We expect and pray that Ghana will lift the World Cup up for the first time in our history." Too much pressure mounting again? Baffoe doesn't think so: "This time it doesn't feel like pressure for the players, it's an extra motivation".


In 2013, Asamoah Gyan made his way back into the team. He had a hard time coming to terms with the missed penalty of 2010, but in Brazil, "it's going to be him who will lead our team through the tunnel on the pitch," says Baffoe. "And that's a good thing," the Ghanaian official continues, "nobody has gone through more than him and he has grown with that. Nothing can knock him over, and the others are feeling that."


Asked by Sueddeutsche about Kevin-Prince Boateng's recent remarks about the lack of leadership and character in Germany's squad, Baffoe explains: "You can sense the new self-image of Ghana's national team here – and other African teams have that, too."


Talking about his thoughts on Africa's overall outlook for the World Cup, Baffoe is convinced that the participating national teams will succeed. "It's important," he says, "that it's not going to be one African team only to make it past the group stage. The time has come to not only develop our strength, but put it on display. Our time has come now."


But in order to promote more African teams, a lot more has to change according to Baffoe: "There's a lot of movement at the moment, but to further push the development we need more African countries at the World Cup finals."

When legendary manager Ottmar Hitzfeld visited Ghana for the launch of allsports.com.gh, Baffoe asked Hitzfeld why he thought African teams were always able to beat big teams and even defending champions at World Cups, but failed to go further than the quarter-final? Hitzfeld responded: "It's easier to cause a sensation than to stay consistently at the top of global football." Baffoe, having worked tirelessly to build and strengthen structures of Ghanaian football, took that to heart – and not only him.


"Players like Didier Drogba, Yaya Touré, Kolo Touré, Obi Mikel, Michael Essien, Sulley Muntari, Asamoah Gyan, Andrew Ayew, Kwadwo Asamoah, Kevin-Prince Boateng, Samuel Eto'o and many others are professionals with international experience," says Baffoe. "Nowadays they find the same professional structures at their national teams as at their clubs."


There won't be any negative reports like bargaining for bonuses on a game day like in 2010, believes Baffoe: "It's going to be different this time. African football has reached adulthood."