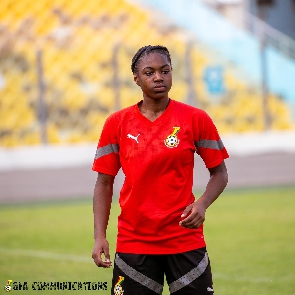 Persis Martha Oteng has joined her teammates in camp to prepare for Sunday's game against Eswatini.
Coach Yussif Basigi added Persis Martha Oteng, a Tottenham Hotspur Women's youth star, to his 30-player squad ahead of Black Princesses FIFA U20 women's World Cup qualifier doubleheader against Eswatini.

The 17-year-old striker was born in the German town of Oberhausen. Last month Oteng scored three goals in four matches for Tottenham Hotspur U-21 Women's side.

Head coach Yussif Basigi has meticulously curated a 25-player squad, each selected for their exceptional talent and dedication to the game.
Persis Martha Oteng missed Black Princesses' first leg 6-1 thrashing of Eswatini. Ghana conceded early in the 5th minute through a defensive blunder which saw the host put the ball beyond Afi Amenyaku. Mercy Attobra (2 goals), Beline Nyarko, Wasiima Mohammed, and Sarah Nyarko scored for Ghana.

The Black Princesses will look to book a seventh consecutive appearance at the biennial tournament in Colombia next year.

Ghana will host Eswatini in the return fixture on Sunday, November 19, 2023, at the Accra Sports Stadium.