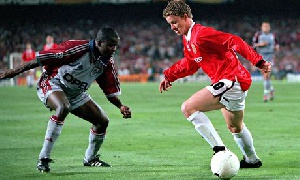 Tue, 1 Apr 2014 Source: Guardian
Samuel Kuffour has clearly not forgotten Camp Nou. Indeed, he spends a lot of time trying to forget it. Fifteen years on from the former Bayern Munich defender's tears on Barcelona's famous turf and he has still refused to watch a video of the 1999 Champions League final.

It is difficult to blame him, given the circumstances. There are few images that portray the agony of sporting grief as poignantly as Kuffour's, crumpling to the floor and hitting the ground in despair as Manchester United clinched the most dramatic of comeback wins.


"I didn't mean to do that, but when you are so down you can't control yourself," Kuffour says. "When I go to any airport in the world people always recognise me because of that, they say 'oh Sammy remember Manchester United against Bayern Munich' – no."


It is still a topic that Kuffour treats with trepidation. He does not enjoy discussing it, yet as the two sides prepare to renew acquaintances at Old Trafford on Tuesday night, memories of that tumultuous evening have added significance.


Bayern Munich won the European Cup two years later, an achievement Kuffour ranks as the pinnacle of a career that also included six Bundesliga titles. However, as Ole Gunnar Solskjaer, Teddy Sheringham and David May danced the night away in Catalunia, Kuffour was on the first plane back to Germany.


"After the game I was just crying. I went straight to the airport to go back to Berlin for an operation. When I came back to Munich people were talking about my reaction. I talked to my mum and my brothers, my friends back in Ghana, people were feeling for me. I think the whole of Africa was behind me. But I have to accept that," he says.


"I have never even watched the game, I don't want to see it. If it is on TV my friends will call me and say 'hey they are showing your game', I say to them that I don't want to watch it. It still gives me pain. I need to let it go but I'm still holding it in my heart. It's very difficult and I don't want to watch it.

"My friends always tell me that the two corners from [David] Beckham were amazing. He had such quality, I remember when we playing in the group stage, that guy put about 50 balls into the box with quality.


"But we were much better in the final and we dominated on the field of play. We had all the opportunities in the game but Manchester were lucky that day. They came out with the Solskjaer and Sheringham goals – in football you can never say never until the referee blows the final whistle."


How David Moyes needs similar fortune. Under pressure and with the European champions in formidable form, United go into the match as major underdogs and hoping to summon the spirit of '99 if they are to achieve a positive result. Kuffour, who now works as a pundit in South Africa, is a regular visitor to Bayern – a club he describes as "a family".


"I have good relationships with a lot of players there, Schweinsteiger was my boy," Kuffour says. "When you look at the Bayern team right now it is a different mentality and a different setup, there is a different philosophy. You can't compare the generations, there is such a difference – now they try to play like Barcelona or the Spanish national team, but we were more direct and more clinical.


"We had so many personalities, I think the strongest was Stefan Effenberg. Then there was Oliver Kahn, an amazing personality and such a strong goalkeeper. He gave 200% in every game, even in training, and we also had Lothar Matthäus.


"Winning the Champions League in 2001 was a great feeling. For me it was my dream to get my hands on the trophy, I thank God that I was able to do this.

When we lost against Manchester United in 1999, nobody thought Bayern would come back with a strong mentality. But we did. It's all about the German mindset and mentality. They know what they want."


Kuffour, 37, spent 12 years with Bayern having signed for Torino as a 15-year-old. The former Ghana international was close to signing for Sunderland when Roy Keane was manager, only for the move to collapse.


"I think Manchester United need to buy some quality players, they need to go into the market. For me, to play against Dwight Yorke and Andy Cole was an honour, it was a privilege. They were really good at the time and it made me play better.


"The players they have at the moment are not at the highest level and the fans should admit that. I don't blame David Moyes," Kuffour says. "Bayern will have more possession and that will be a problem for United, because some of their players aren't getting younger."


He will be watching this evening, but for Kuffour, there is one match that he may never be able to stomach. "I think Bayern will win but that Manchester United will give them a tough time. In football, anything can happen."

Source: Guardian