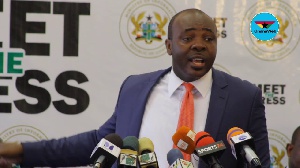 A pressure group, the Truth and Accountability Governance is calling for the suspension of the Sports Minister Isaac Asiamah along side his Deputy to allow for "unimpeded" probe into the deportation scandal that hit the country.
The President, Nana Akufo-Addo Thursday announced the suspension of the Deputy Sports Minister Pius Hadzide and the Director General of the National Sports Authority, Robert Sarfo Mensah for their alleged roles in the scandal that saw the deportation of some 60 Ghanaians who posed as journalists to cover the ongoing Commonwealth games in Australia.

The group's demand comes after the Minority in Parliament poopooed the announced suspensions as not enough, calling for a presidential probe into the scandal.

"This is because we do not want the situation where it would appear that some one or two or three or few guys maybe targeted and then maybe given a raw deal under the situation," the Minority's Spokesperson on Sport and Culture Kwabena Mensah Woyome stated on Starr Today Thursday.

Speaking Friday April 13 on Starr Today, the group's Communications Director Kwame Atuah Patrick asserted that the Minister cannot be exonerated of blame in the scandal.

"The Deputy Minister was working on the power of the Minister…meaning it is the Minister who designated his power to the Deputy Minister and so anything that the Deputy Minister is doing was supposed to be reported [back] to the Minister administratively," he said.

"So, I find it very…very difficult to understand the position of government by sacrificing the Deputy Minister and leaving the Minister at post," he added.
He said in order to be able to conduct "thorough investigation" into the circumstances leading to the scandal, "you must allow the two of them…in this case, the Minister and his Deputy to step aside."

Citing the 'cash-for-seat' saga as a case study, where the sector Minister Alan Kyerematen availed himself for questioning despite delegating his power to his Deputy to chair the committee that organised the controversial awards ceremony [Ghana Expatriates Business Awards], Atua-Patrick said "it is believed that the Minister is in charge of that Ministry and so therefore that anything that goes on in that Ministry he should be aware."

"Clearly, you cannot tell me that all that has happened it is the Deputy Minister that we must sacrifice leaving the Minister there…they sacrificing the Deputy Minister just to cover up," he stressed.

I'll be exonerated after probe

The suspended Deputy Sports Minister Pius Enam Hadzide moments after his suspension was announced denied ever playing a role in the circumstances that led to some 60 Ghanaians posing as journalists ended up in Australia for the Commonwealth Games.

Welcoming the President's decision, he told Asempa FM's Ekosii sen programme that, "After the investigations, they'll realise that I know nothing about it and I'll be exonerated."