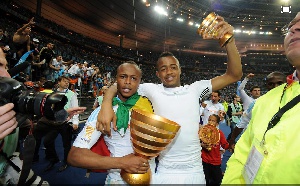 Former Ghana international Charles Kwabena Akunnor has rejected calls from football fanatics in the country to axe Captain Asamoah Gyan and the Ayew brothers from the Black Stars team.
Ghana's leading top scorer Asamoah Gyan together with Jordan Ayew and brother Andre Ayew have been the subject of discussion following their abysmal performance in the country's 2018 World Cup qualifier 1-1 draw with Congo last Friday in Kumasi.

Many believe the time has come for head Coach Kwesi Appiah to be bold enough to say goodbye to the trio and equally give other young talents the opportunity to prove their value in his quest to build a strong team for the future but the ex- Black Stars skipper describes the suggestions as 'unjustifiable and ungratefulness'

The Ashanti Gold SC gaffer urged Ghanaians to exercise restraint and put a stop the needless pressure being piled on Coach Kwesi Appiah to drop the aforementioned players in his subsequent call- ups and allow him work with free mind.

''I think the boys played very well, tactically they were calm and made everything very difficult for the Congolese. Change of attitude I will say did the magic for the boys. The same group of players could play and would have the same attitude, same way other group of players will play and have a different attitude that is the game of football" He told Kumasi based Abusua FM.

He added ''If you look at the way they started and the impression they gave from the beginning clearly you could see these guys willing to play and willing to fight and were able to give us the necessary victory at the end they made the game it was embarrassing for the Congolese team''.
''The selection Kwesi Appiah did was on point and I think going he has to continue doing that to help the team win matches''.

''There's time where players will come and go others will come also come on board and pay their dues but for us to say the players who didn't play on Tuesday to retire prematurely isn't the best.''

''I think the call for the head coach to stop calling those players are unjustifiable because this same players you are calling for their exit are the same players who have won matches for the Black Stars.

''When you begin to do this you retire players and they go will some bitterness which isn't good for the country''.

''These players won't play for the national team forever they will certainly leave but the question is should we just sack Asamoah, Gyan and the Ayew brothers simply because they performed poorly in just one match absolutely no that would be unfair' Akunnor concluded.