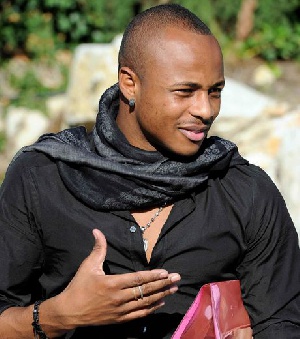 Ghana winger Andre Ayew has expressed surprise at the sacking of Kwesi Appiah and denied players ganged up against the former Ghana captain at the later stages of his reign.
Kwesi Appiah was axed on Thursday evening by the Ghana Football Association following the Black Stars' unconvincing start of the 2015 AFCON qualifying campaign.

The Olympique Marseille winger claims players formed a special bond with the trainer, and his sacking came as a surprise to the entire team, rejecting reports the coach failed to firm up authority at the dressing room.

"We had formed a special bond with the manager and didn't expect this at this time. I honestly don't think any one of us really expected this to come at this time," he said.

A section of the Ghanaian media claim the 24-year-old clashed with Kwesi Appiah over his substitution during the 3-2 win over Togo and failed to exchange handshakes with him after the game. But Andre has rejected the reports.
"Who says I didn't shake hands with Kwesi Appiah after the last game. That is never true. And who says some of us, senior players walked up to him to question his credibility after the Togo game.

I don't remember seeing any of my teammates doing that so I find it strange that the media will report on something that actually did not happen in Lome.

But anyway, there is nothing we can do, but only say our hearts are with him and we appreciate him for what he gave to us."