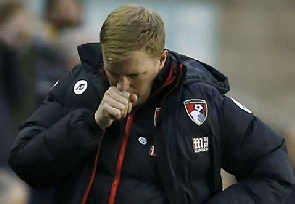 Newcastle United head coach, Eddie Howe has stated that he is hoping for some good news regarding Christian Atsu's whereabouts after the earthquake in Turkey.
Eddie who worked with Atsu at Bournemouth admitted that the situation is worrying.

Speaking ahead of his side's game against Bournemouth, he recounted his time with Astu and shared his thoughts with the player and his family.

"It's hugely worrying. I really enjoyed working with Christian [at Bournemouth]. He's a great lad and a great player. Our thoughts are with him and his family. We hope for some good news."

Ghanaian winger Christian Atsu and the technical director, Taner Savut are the only Hatalspor members yet to be found after the tragic incident on Monday, February 6, 2023.

The search and rescue team is still on the hunt for Atsu and Taner Savut, who are reportedly trapped in the rubble.
Watch the full story about Christian Atsu being trapped in the rubble





EE/KPE