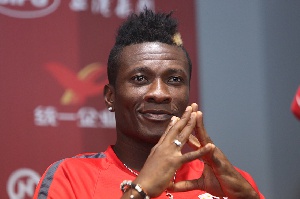 Mr Samuel Anim Addo, spokesperson for Black Stars striker Asamoah Gyan has said Ghana needs full concentration and unity to win this year's African Cup of Nations (AFCON), to be staged in Egypt next month.
Speaking in an interview with the GNA Sports, Mr Anim Addo who confirmed the decision of the player to return to the Black Stars after announcing his retirement said, the national team can only be successful if the entire remain focused and united both spiritually and physically.

According to Mr. Anim Addo the playing body and the technical team must henceforth seek ways to build unity in their quest to end the 37-year old trophy drought.

Commenting on Gyan's return to the national team, he said Gyan took the decision after a fruitful discussion with President Nana Addo Dankwa Akufo-Addo, a section of Ghanaians and most football legends.

"Yes it is true, Gyan has made himself available for selection, the statement is out and it speaks for itself with every message clearly spelt out from first to the last paragraph.
"Gyan has listened to the father of the land, who told him why we need him in the team. We don't need any divided attention but we need full concentration and unity in the team to be able to go and lift the trophy.

"He listened to most Ghanaians and most legends who spoke about his retirement from the team as well and we want to say thank you to Ghanaians for showing him that love.

"Ghanaians needed him for the quality that he has exhibited for the many years he has been in the Black Stars, and that cannot be bought anywhere, his experience as well as his temperament," he added.