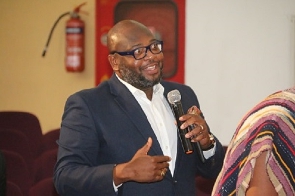 An Executive Council Member of the Ghana Football Association, Dr Randy Abbey, says that while the Kurt-led administration has performed admirably in its first term, it is wise to accept mistakes and find ways to improve them to promote Ghana football.
The astute football administrator boss accepts that there is a need for the GFA to take an approach to identify areas that require advancement and make the right adjustment as elections approach.

"We need to identify some of the things that could have been done better and focus on how we can do it better. Maybe how we express ourselves, we might not have meant some things we said that created wrong impressions, and that can be corrected", he told Asempa Fm.

He insisted that this is crucial for ensuring continuity and taking the game to the next level.

"So, we just have to be honest enough to do things differently, and I have absolutely no doubt that we will be better off as far as our football is concerned. If we embark on continuity at all, be it, we must also be prepared to make some adjustments and accept that we could have done better. And to accept that we could have done differently," he added.
Meanwhile, Kurt's first term ends in October this year since he assumed office in 2019.

However, with the next elections fast approaching, the former sports journalist could be seeking another term in office.

LSN