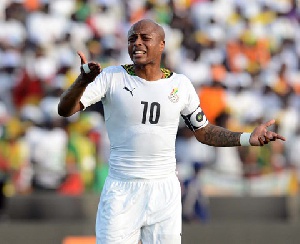 Ghana Deputy Captain Andre Ayew has hinted it is a make or break week for Ghana in their quest to make it to a fourth straight FIFA World Cup finals.
The race to Russia 2018 resumes this weekend across the globe but in Ghana, the Black Stars will be hosting central Africans Congo in Group E, which also houses Egypt and Uganda, both of whom Ghana have faced in the previous match days.

Ghana are currently sitting third in the group with one point, after recording a goalless draw against Uganda and losing 2-0 to Egypt. Despite finding themselves in a tight corner, the Black Stars still have a chance to overturn their deficit and move up the table.

However, that mission starts with a resounding success against Congo at home on Friday as well as a satisfactory outcome in the reverse away fixture while keeping an eye on the double-header between the two table toppers, expecting one or both to drop points.

Ayew, who plays for English side West Ham United, insists it's not impossible to secure qualification despite the thin hopes. The four-time African champions have their work cut out for them as they play the group's whipping boys.

The West Africans have fallen off the pace as they trail leaders Egypt by five points after two games. The Hammers' midfielder admits the task is near impossible but he is refusing to throw in the towel, just yet.
"I've been to two but we're in a difficult spot at the moment," he admitted. "We're in a difficult spot, but hopefully we're going to make it to the World Cup."

"It's an important year for us and if we do it, we'll turn something that was impossible into something possible, so our country would be on fire. We're going to try to make it happen. We have the belief, we have a great squad and I think we can do it. "I'd like to go to my third World Cup.

It's not every player who has the chance to go to even one World Cup, so if I have the opportunity to go to a third one, I need to do everything possible to make that happen."

The son of three-time African Footballer of the Year Abedi Pele has been capped 75 times and appeared at seven major tournaments.

/