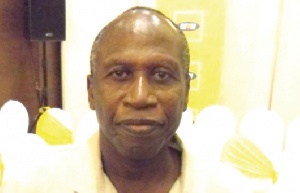 Former Black Stars player Rev. Osei Kofi has revealed that, he and four other members of the Retired National Footballers Association of Ghana (RENFAG) were denied visas to Brasil to watch the 2014 Federation of International Football Association (FIFA) World Cup.
Rev. Kofi who was among the audience at the sitting of the Presidential Commission of Inquiry investigating the participation of the Black Stars at the World told the commission that, they were given five slots by the ministry but none of them the trip.

He noted that, their passports were collected by the Ministry of Youth and Sports to be forwarded to the Embassy of Brasil for visa.

"To our surprise, the passports were returned to us without visas.
"As to whether they were presented and we were denied visa is a different story but the fact of the matter was that, we were denied the opportunity to be part of the World Cup".

According to Rev. Kofi there was no explanation from the ministry or any authority hence their ability to be part of the celebration.