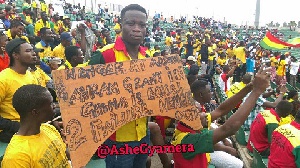 The call by Arsenal fans around the world for Arsene Wenger to bring his 21-year reign to an end received another boost on Friday as some Arsenal fans in Ghana used the match between Black Stars and Congo to make known their displeasure with Wenger's performance.
Banners calling for the exit of the French gaffer were spotted at the Baba Yara Stadium when a resilient Congolese side frustrated Ghana to pick a point from the game.

The banners had inscriptions like "Wenger Out", "WingerOut", Wenger at Arsenal, Avram at Ghana equal 2 failure, Wenger Out" ….

The popularity of the WengerOut brigade has surged in the past one year with Arsenal fans around the world pouncing on the slightest opportunity to register their grievances.


PIC: Fans at the Baba Yara Sports Stadium with "WENGER OUT" Banner during Ghana vs Congo game. #2018WCQ pic.twitter.com/91eRHHax3S

— Kennedy Amoako (@FancyDiMaria) September 2, 2017
Wenger Out banners were spotted at the World Cup qualifier between New Zealand and Fiji in April. The banners were also held up when Labour leader Jeremy Corbyn was delivering his speech in May this year.
My mate Alex is at a New Zealand Fiji World Cup qualifier. 500 people in a 35,000 seater stadium. Obviously there's a #Wengerout banner. pic.twitter.com/aEptUGfKlb

— William Paul (@willpooool) March 28, 2017
In South Africa, the Wenger Out banners were held up during a match against President Jacob Zuma.
@YesWeCrann pic.twitter.com/HbAESXBUwM

— Tumelo Thothela (@TumeloThothela) April 7, 2017
The clamor for Wenger's exit has become louder with the Gunners' poor start to the 2017/2018 league season that has seen the club accrued 3 points out of a possible 9 including a 4-nil humiliation at the hands of Liverpool.
Meanwhile, the 1-1 draw between the Black Stars and Congo seemed to have crushed the country's hopes of making it to Russia 2018 with captain Asamoah Gyan asserting that "only a miracle can take us to Russia".