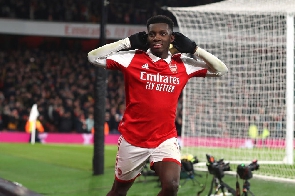 English-born striker with Ghanaian heritage, Eddie Nketiah, has become the toast of town following his incredible performance for Arsenal in the 3-2 victory over Manchester United.
The Gunners produced a comeback at the Emirates Stadium on Sunday, January 23, 2023, over Manchester United to maintain their lead on the Premier League table with a game to spare.

Nketiah scored the equalizer for the Gunners before tapping in the match-winner in the 90th minute to win the game for the Premier League leaders.

"What Eddie is doing is incredible. We cannot say that we saw that, we were hoping that he could do that because of the way he is, because of his mentality, because of his qualities and how those qualities fit within the team."
"Losing Gabby [Jesus] was a big blow, it is a big blow today, but Eddie is responding, and the team, I think in an exceptional way," he added.

"The qualities that he has, how much he wants it, how much belief he's got in himself to become Arsenal's number 9. His desire, his background, we're with him every single day, [he's] a special kid, he's so loved by everybody at the football club, he's got a real Arsenal heart and experience within him and that's really special. You cannot put that into numbers. He's really, really good," Mikel Arteta said in a post-match interview on Sunday, January 22, 2023.

Arsenal are now on top of the Premier League with 50 points, followed by defending champions Manchester City.