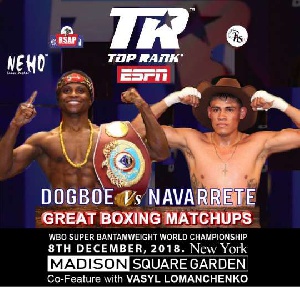 "Media 7", a digital terrestrial television based in Ghana, has acquired the rights to broadcast the boxing bout between World Boxing BO World Super Bantamweight Champion, Isaac 'Royal Storm' Dogboe (20-0, 14 Ko's) who faces off against Mexico's Emmanuel Navarrete (25-1, 22Ko's).
Speaking at the media launch of the bout slated for December 8, 2018, at the Madison Square Garden, United States of America (USA), Dr. Kuuku Biney, Chief Executive Officcer of "Media 7" stated that, his outfit was dedicated quality content at the doorsteps of every Ghanaian home.

"Media 7" covers the whole of all Africa and the Southern part of Europe. We stand for quality and where there is quality content we want to broadcast. Most Ghanaians would

want to watch this bout and we poised to broadcast the bout in high definition.

"We have come on board to bring our know-how to broadcast the bout to every Ghanaian and the rights would be further delivered to any interested media house," Dr. Biney said.
He also threw his support behind Team Dogboe and remained hopeful that the young boxer, would triumph over his opponent and bring glory to Ghana on December 8, 2018.

The launch also saw the unveiling of official hashtag for the bout dubbed ''#Nehomustwin'' which means "uprooting their opponent".

Dogboe is currently in the USA gearing up for his second title defence against the Mexico who has not lost in four years and has knocked his opponents 22 times.